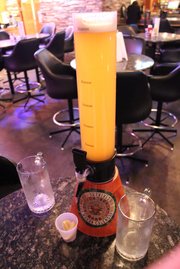 Good to the last drop. So good, in fact, that the Yacht Club had to cut the previously 120-ounce beer dispenser in half because they had too many customers commit to a tower per person (can't imagine who would do that). Arriving with a couple of frosted glasses, the tower of beer is meant to serve more than one. Don't feel like you have to impress anyone with tower races, which frequently happen (seriously, can't imagine who would do that either).
Kick back with your closest friends after a rough Monday and enjoy an entire 60-ounce tower of any beer of your choice. If you're constantly thinking, "I wish I had even more Boulevard Wheat," this could probably quench your thirst. Maybe. In the past, they've had customers so enthralled with the contraption that they had to purchase it for themselves for a whopping $125.
The hard stuff: Beer. 'Nuff said.
Where it's served: Yacht Club, 530 Wisconsin St.
What it costs: $12
Other libations at this location: Standard sports bar fare. Grab some quick appetizers or 40-cent wings on Wednesdays and enjoy a few brews, margaritas, Long Islands, whatever you're into. No boat or membership required.
— Drink up. Stay classy. Don't forget to tip your bartender. And let us know if you want to suggest a libation for this feature — email nimafidon@ljworld.com or Tweet her at Twitter.com/nadia_imafidon. Cheers. PrintFavorite