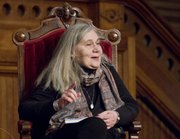 Members of the community gathered Thursday at Plymouth Congregational Church, scattered among the pews from the front to the back of the sanctuary with "Housekeeping" books in hand. After spending one month discussing this year's Read Across Lawrence selection, it was finally time to hear from the Pulitzer-prize winning author herself.
Sitting across from event mediator and Lawrence Public Library's director Brad Allen, Marilynne Robinson said she felt at home in this church setting.
With questions from both Allen and from the crowd, Robinson spoke about the intricacies of the novel's genesis; the beautiful, unrecognized landscape of the Northwest in which she was raised; religious connotations written into the pages of all of her books; and graces she finds in life's common moments. She also gave a short reading from the novel.
She is known to share with readers glimpses of the holy and the sacred everywhere in our lives. "Housekeeping" was born from small pieces of the book stored in a dining room drawer of her home. It wasn't until she moved to France to teach that she found time to sit down and write in a countryside farmhouse with big windows that children would run up to and tap on like she was in an aquarium.
"I found this distracting so I went into an old room and I closed the shutters and doors," Robinson said. "I had this wobbly bedside lamp and a spiral notebook and pen. And I started writing, picking up from the place of these metaphors."
Isolated in a dark room, she stirred up images from her childhood and set to work.
"I remember thinking, I'm the only person in the universe sitting in a dark room in France remembering Idaho," Robinson said to the crowd erupting in laughter.
Robinson said she recognized her writing style was unlike anything she had seen written about before, and felt it was a disadvantage. The agent who received the manuscript from a writer friend of hers (sent without Robinson's knowledge) told her it would be hard to publish but she would represent it. An editor told her it wouldn't get any reviews, but she'd publish it.
"Then I got a big review in the New York Times that said, no one else is going to review this, but I am," Robinson said. "So I've had a charmed life, and that's how the book came to be."
"Housekeeping" was published in 1980, nominated for a Pulitzer Prize and won the Hemingway Foundation/PEN Award for best first novel. It's a story about loss, hope, love and family ties as it follows the narrative of two sisters raised in the small, imaginary town of Fingerbone, Idaho.
She felt the title was fitting two-thirds of the way through writing it. After all, she said, "what is harder than the keeping of a house" — our primary desire in life being to find a shelter in which to grow and to nurture others.
"Of course I got a long list of alternative title names, so they were clearly trying to pry me away from this one because it wasn't marketable," she said.
Those in attendance seemed to be illuminated by the insight she gave as she unpacked some of the tougher themes and unexplained details in her novels. Peggy Forsberg, who read "Housekeeping" as part of group, said they constantly revisited sections. She thinks they will keep doing so for weeks to come.
"I thought she was just so open and accessible with sharing," said Forsberg, who teaches at Highland Community College. "I think with the richness of her writing, you don't get it the first time."
Alluding to themes reflected in this novel and her two others, "Gilead" and "Home," Robinson spent time preaching about the lack of graciousness in today's society.

The idea of pondering what's good, true and noble seems to have fallen out of modern lifestyles, she said.
"Rudeness has become normal behavior, and disagreement has become antagonism," she said. "It's as if joy is a luxury that not even the richest can afford."