Spencer Lott has a long history at the Lawrence Arts Center.
"I took my first acting class from Ric Averill when I was in second grade," he says with a broad enthusiastic smile on his face.
The Lawrence native and Kansas University graduate is now a teaching artist at New York's New Victory Theater, but he's back in town for the Arts Center's new production of "Pinocchio." He talks fast and energetically about the production, and you get the sense it's not due to the large coffee he sips between answers. Lott is a puppeteer by trade, and he's clearly looking forward to operating the famous wooden boy who just wants to be real.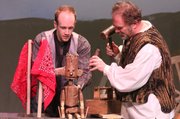 If you go
"Pinocchio" opens Friday and runs through Sunday. Curtain is at 7 p.m. Friday and Saturday nights, and at 3 p.m. Saturday and Sunday afternoons. Tickets are available by calling the Arts Center box office at 843-2787 or online at lawrenceartscenter.org.
"The puppet is 3 feet tall," he says. "It's a rod puppet made to look like wood. I operate the head, and we've got a very talented young lady, Mary Kate Schultz, handling the feet."
Schultz is a local fourth-grader, who has been involved in numerous past productions at the Arts Center, including its Summer Youth Theater program.
This is Lott's second "reappearance" at the Arts Center.
"I did 'Escape from the Labyrinth' last year," he says of the show that featured a giant Minotaur puppet. "Shortly after, I got a call from Ric asking if I'd be interested in working with him on a new production of 'Pinocchio.'"
Lott notes they have a strong script based on the original stories.
"It's a little darker than the Disney version," he says, still smiling. "It's episodic — a coming-of-age story — and it's quite funny."
Averill, who plays Pinocchio's father, Gepetto, and is directing the show, has gone for a gypsy camp feel to the set and the telling.
"The set has rocks and overturned carts," Lott says, his eyes lighting up as he envisions the finished production. "The whole idea is this old man, whom we find out is Gepetto, is sort of telling this story for everyone to hear. It's simple, poor man's theater in a gypsy style."
"Pinocchio" features an enormous cast to tell the story.
"We've got about 65 people," Lott says. "It's a very community, familial feel."
In fact, there are several entire family units in the cast and crew. The Arts Center has also included its professional dance troupe in the production, and it features live music by local band Drakkar Sauna.
"There's really something for everyone," Lott says. "The episodic nature lends itself to make it easy for younger audiences to pick up. The content — the coming-of-age nature of the story — appeals to a slightly older audience. And there's plenty for the adults to laugh and groan at."