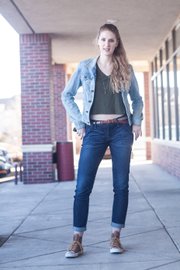 Age: 22

Hometown: Calgary, Alberta, Canada
Time in Lawrence: Five years
Occupation: Studying chemical engineering
Dream job: Working in the oil and gas industry
What were you doing when scouted? Emptying out my closet with the clothing that I don't really wear anymore.
Describe your style: My brother likes to joke and call me hipster. I don't know if I'd describe it to be that, but I feel like it probably falls into that category a little bit.
Fashion trends you love: I like vintage throwback stuff like my shoes or high-waisted shorts and pants.
Fashion trends you hate: I think everyone has their own specific style so I don't try to dis. But I don't like those low-crouch pants that are coming in right now like those Hammertime pants. They are not flattering.
Fashion influences: Observing people, plus Pinterest where I waste a lot of time.
What would you like to see more of in Lawrence? More well-dressed people. The way you dress tells a lot about you as a person without saying any words.
Less of? It's hard because it's a college town and once you've kind of outgrown it, just the whole partying around mentality that comes with it, I think could be toned down.
Whom do people say you look like? Sarah Jessica Parker when I was younger.
What type of music do you like? I like "acoustic-y" stuff, but it really depends on my mood. I'll listen to anything like country or R&B.;
Tell us a secret: I have to set an alarm clock on the weekends so that I don't sleep the whole day away!