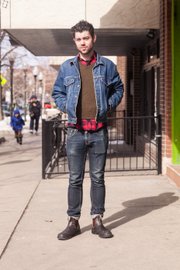 Age: 26
Hometown: Manhattan
Time in Lawrence: Off and on for about nine years
Occupation: Cook and bartender
Dream job: Make money playing music
What were you doing when scouted? I just went to eat at that Ramen Bowls place. I had that Spam Musubi dish. It's pretty good.
Describe your style: Grown-up punk
Fashion trends you love: All-black everything
Fashion trends you hate: Hats with animal ears on them
Fashion influences: I don't know. I just try to keep it basic.
What would you like to see more or less of in Lawrence? More music venues and less cold (weather).
Tattoos or piercings: Yes. My favorite? I don't even know. A lot of them are kind of stupid. I do have a Pac-Man ghost that I tattooed on my leg by myself.
Whom do people say you look like? Nick Cave
What type of music do you like? It's all over the place but I listen to punk music.
Tell us a secret: I have nine toes.