Spring is almost here, and downtown Kansas City is poised to host one of the most action-packed weekends of 2014 thanks to two very different cultural phenomena: College basketball and Star Trek. Though the two worlds aren't expected to cross over, you might be able to experience both if you act quickly on tickets.
Basketball, of course, refers to the annual Big 12 basketball tournament at the Sprint Center from March 12 through 15. While tickets are mostly available at this point through StubHub or via on-site scalpers, the entire Power & Light District will be flooded with basketball fans as part of the Big 12 GameDay Street Festival, a kid-friendly event that includes free-throw, half-court and three-point shooting contests along with other fun and games throughout the weekend.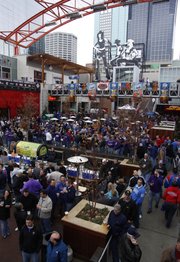 The Miller Lite Fan Fest, held in the Power & Light District courtyard, will be open to fans of all ages until 9 p.m., when it becomes 21 and over. The Fan Fest includes pep rallies, watch parties, food and drinks, and giveaways.
Whether you choose to celebrate in the P&L; itself, take part in the games right in front of the Sprint Center or post up in one of the many bars and restaurants within a few blocks of the arena itself, good vibes abound during the Big 12 tournament — especially in the first day or so before half the teams are sent packing.
One big change this year is that the Sprint Center will allow beer and wine sales during the tournament itself, which definitely was lacking at last year's games. The decision was made in part to get fans into the arena earlier and prevent bottlenecking lines, and to also cut down on binge drinking before the games start.
Planet Comicon
The Star Trek action will take place at Bartle Hall as part of Planet Comicon, the rapidly expanding entertainment, science fiction and comic book art convention that this year will host all the main cast of "Star Trek: The Next Generation" (everyone but Patrick Stewart, at least). Tickets are limited to the TREKtacular event at 4:30 p.m. Sunday, hosted by James T. Kirk himself, William Shatner, but the rest of the cast will be signing autographs and posing for photographs Friday through Sunday.
Other events at Planet Comicon include merchandise from comics and costume vendors, an Artists Alley exhibit featuring a wide array of talented illustrators, a gaming center for tabletop games and competitions, and of course plenty of cosplay, with prizes available for best costume. If you haven't been to a convention like this before, be prepared to be blown away by the amount of time, effort and materials people put into their costumes. The people-watching (and superhero-spotting) at these things is as good as it gets.  
In addition to the Enterprise crew, Planetic Comicon will host dozens of celebrity guests, including Sylvester McCoy of "Doctor Who," Margot Kidder of the "Superman" films, Jewel Staite from "Firefly," John Ratzenberger of "Cheers" and every Pixar movie, Lee Majors and many others.
A number of panel discussions and workshops will be held each day, ranging from how to break into the comics business to how to build your own R2-D2. Check out the complete schedule of events at planetcomicon.com.
Parade warm-up
On Saturday, the 34th annual Brookside St. Patrick's Warm-Up Parade will wind its way around the half-mile surrounding 65th and Wornall, featuring plenty of "Shamrock Shenanigans" (the theme of this year's event).
A kid-friendly event that's technically a "warm-up" parade, the festive floats and central location in the city should make it every bit as festive as the holiday itself. The parade starts at 2 p.m. Visit brooksidekc.org for more information.
Brit Floyd
Just a week or so ago I made a Pink Floyd reference in one of my columns, and no sooner had I done so when I saw that Brit Floyd — aka "The World's Greatest Pink Floyd Show" — would be performing at The Midland at 8 p.m. Tuesday.
Pink Floyd fans should be impressed by the Liverpool-based Brit Floyd's attention to detail, from musical reproductions from their entire catalog to the light show, videos and animation. Tickets cost $42 to $62 and are for sale at Midlandkc.com.
— Lucas Wetzel is a writer and editor from Kansas City, Mo.