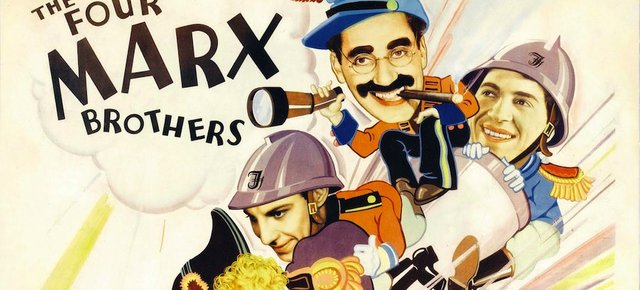 Today in Lawrence is an early morning digest of essential (and not-so-essential) info to start your day in Lawrence and Douglas County.
70s again, seriously?
Seriously. The National Weather Service in Topeka is predicting a high of 72 today, not quite matching the sweltering 77 of Monday, but pretty darn nice. There's a chance of rain this afternoon, then things will cool off back into the 30s overnight. Enjoy the sunshine while it lasts.
Marx Madness
Rufus T. Firefly is named president and dictator of bankrupt Freedonia and declares war on neighboring Sylvania over the love of the wealthy Mrs. Teasdale. Marx Madness ensues. At 7 p.m. at Liberty Hall, 644 Massachusetts St., Groucho, Harpo, Chico and Zeppo star in 1933 masterpiece of anarchy "Duck Soup." If you haven't seen it, you should. How else would you spend your Tuesday night?
Authentic Americana
Well, one alternative would be to check out Kelly Werts at the Lawrence Arts Center, 940 New Hampshire St., at 7:30 p.m. The singer and master fingerstyle player has spent more than three decades fine-tuning his repertoire of old-time traditional music with contemporary updates.
Yesterday's most-read
More March 11 events
Red Dog's Dog Days workout, 6 a.m., Allen Fieldhouse, 1651 Naismith Dr.
Coalition on Homeless Concerns monthly meeting, 3-5 p.m., Lawrence Community Shelter, 3655 E. 25th St.
Lawrence-Douglas County Bicycle Advisory Committee meeting, 5 p.m., Parks & Recreation Conference Room, 1141 Massachusetts St.
Big Brothers Big Sisters of Douglas County volunteer information, 5:15 p.m., 2518 Ridge Court.
Lonnie Ray's open jam session, 6-10 p.m., Slow Ride Roadhouse, 1350 N. Third St., no cover.
Lawrence City Commission meeting, 6:35 p.m., City Hall, 6 E. Sixth St.
Film: "Freedom Riders," 7 p.m., Carnegie Building, 200 W. Ninth St.
Herbs study group, 7 p.m., Unitarian Fellowship, 1263 North 1100 Road.
Plymouth Language Program: Free English as a Second Language class, 7-8 p.m., Plymouth Congregational Church, 925 Vermont St.
Plymouth Language Program: Affordable community Spanish class, 7-8 p.m., Plymouth Congregational Church, 925 Vermont St.
Innovations Series: Branching Out: Exploring New Uses for Drones, 7:30 p.m., Dole Institute, 2350 Petefish Drive.
Hall Center for the Humanites Lecture Series: Peter Brown – "Through the Eye of a Needle: Wealth, the Fall of Rome, and the Making of Christianity in the West, 350-500 AD," 7:30 p.m., Lied Center Pavilion, 1600 Stewart Drive.
KU University Band & KU Symphonic Band, 7:30 p.m., Lied Center, 1600 Stewart Dr.
Gamer Night, 8 p.m., Burger Stand at the Casbah, 803 Massachusetts St., free.
Free swing dancing lessons and dance, 8-11 p.m., Kansas Room in the Kansas Union, 1301 Jayhawk Blvd.