Wednesday, March 12, 2014
We spent a recent morning at a small friend's birthday party and were starving for some real food. As luck would have it, we were standing outside of Ramen Bowls, a new restaurant we had been intending to try for several weeks.
Even if we had not been curious to try something new, the smell would have lured us in. The scented rice, pork belly and mixture of spices were intoxicating. We were led to a table upstairs, and that's where my world changed.
That's where I ate my first bowl of bibimbap.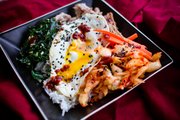 It's going to sound stupid when I tell you what bibimbap is. It's just rice and lightly cooked veggies, typically with some spices, slow-cooked meat and an egg on top. But, like all the best comfort food, its simplicity is what makes it something you'll crave at four in the morning.
The tang of the kimchi, the crunch of the blanched carrots, the savory satisfaction of tender pork — the alchemy of the three is magical. And I haven't even gotten started with the egg yet.
Whether poached or fried, bibimbap is traditionally served with a lightly cooked egg on top. Once broken with an eager fork or chopstick, the golden egg yolk coats the rice and vegetables to make a light sauce that pulls the whole dish together.
If you're eating out, certainly head to Ramen Bowls and give this dish a try. But if you'd like to make it at home, here's a close second I've come up with. Feel free to alter the ingredients to your palate and what you have on hand when a craving strikes.
Bibimbap
Makes about 4 servings
1 Boneless Boston butt pork roast (these tend to come between 2-3 pounds, which will leave plenty for pork tacos or another meal)
3 cups chicken or vegetable stock
1 cup jasmine rice
2 carrots
1/2 bunch of kale or chard
1 tablespoon fresh ginger
1 clove garlic
For each bowl
Kimchi
Sesame oil
1 egg
Sesame seeds
Hot sauce
Put the pork roast in a crock pot, cover with stock, and cook on high for about 8 hours. When the pork roast is done it should easily come apart with a fork. Shred the roast and set aside.
Using a rice cooker or your favorite stovetop method, cook 1 cup of jasmine rice.
While the rice is cooking, cut the carrots into matchsticks and chop the kale into ribbons.
Boil a few cups of water in a saucepan, then add the carrots for 2 minutes — you want them to still have some crunch when they're done. Drain the carrots and discard the water.
Chop the garlic and ginger finely, then add it to the same pot you used for the carrots. Add the kale and about 1/4 cup of water. Tossing the kale together with the garlic and ginger, cook it until it's bright green — again, this should take about 2 minutes.
Now that you have almost everything prepared, assemble your bowls. Start with a layer of rice, then add the pork roast, carrots and kale. Add a dollop of kimchi and drizzle about 1/2 teaspoon of sesame oil over the top of each serving.
With your bowls at the ready, it's time to cook the eggs. Either fry or poach one egg for each person you're serving. Because the slightly runny egg yolk is what really makes the sauce, the only rule is not to overcook the eggs.
Slide your freshly cooked eggs onto the top of each bowl, then sprinkle with sesame seeds and all the hot sauce you can stand. If you're eating with bibimbap first-timers, make sure you tell them to break the egg yolk and mix it into the rice and vegetables before they dig in.
— Meryl Carver-Allmond lives in Lawrence and writes about chickens, babies, knitting, gardening, food, photography, and whatever else tickles her fancy on any given day at mybitofearth.net.