Wednesday, March 12, 2014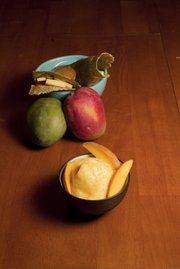 Delicious
Don't be confused. My mango recipe could almost be mistaken for something healthy.
Were it not for the healthy dose of refined sugar in the dish, it truly would be.
I remember the first time I had sorbet. I was a teenager and for some reason was dining in a fancy hotel restaurant, and the waiter brought out a little lemon sorbet as a palette cleanser. I was all "Wha?? Ice cream now?" and the waiter was all, "No, fool, it's just to prepare your mouth for the next amazing thing I'm bringing." Except I didn't want the next amazing thing. I wanted more of that sorbet.
So, since then, I have taken it upon myself to whip up a sorbet with some regularity. The beauty of it is that virtually any fruit can be made into sorbet, and, no matter what, it's always a treat. And you can have more than a thimbleful at my house. It is nice because you don't have to have special ingredients around. To make ice cream, I have to have some sort of cream and/or half and half, and those things are not really staples in my refrigerator, as much as I'd like them to be. But for sorbet, I just have to cut up whatever fruit is in my bowl, add sugar water, blend and freeze. Boom. Dessert. And it's fat free. I mean, yes, there's the calorie/sugar factor, but just keep telling yourself it is fat free and you'll feel better.
P.S. If you haven't bought yourself a Cuisinart ice cream maker yet, go ahead and do that. It will change your frozen treat world forever.
Mango-Citrus Sorbet
3 ripe mangos
2 cups diced pineapple
Zest and juice of one orange
1 1/2 cups water
1 1/2 cups sugar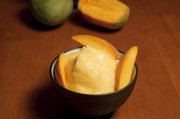 In a saucepan, heat and stir the water, sugar and orange zest until the sugar is completely dissolved. Set it aside to cool.
Meanwhile, peel and cut up your mangos and pineapple and combine them with the juice from your orange.
(If you have never cut a mango up before, just know this: the pit is an undefined area. When you cut into the mango, eventually you will hit a hard center. I just slice the mango close to the pit, and then I cut it up into chunks. It's a little tricky.)
Combine the sugar mixture with the fruit and blend. I used an immersion blender for this, but a regular blender would do fine. I just find them harder to clean and more cumbersome. I do love my stick blender a whole lot.
Pop the mixture into the refrigerator to chill, about an hour. Then freeze! I like to put it in a container and put it back into the freezer to get more solid, but straight out of the ice cream maker is good too.
— Megan Stuke is a working mom, a practical cook and an impractical hostess.
Nutritious
When I lived in South Florida a few years ago, I learned to love mangos.
They're ubiquitous down there. So common, in fact, that co-workers would lug in grocery bags full when their own personal trees started producing and just beg the rest of us to take them off their hands.
Those little beauties were so good, I couldn't believe I'd pretty much gone my entire life without them. (We, unfortunately, did not have a good spot for a mango tree on our property.)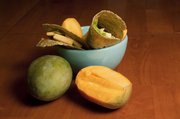 That said, they weren't a normal sight in Midwestern groceries stores when I was growing up (as far as I can remember), so I didn't have much of a chance to get acquainted. And the one time I do vividly remember trying one was when I visited Australia in high school, and being a teenager with no fresh produce skills, I did a horrible job of picking one that was ripe.
So, yeah, it wasn't until about 10 years after that first-time experience that I knowingly had a ripe, juicy mango. And I realized that I loved the bright, fresh taste.
Since then, they've been a staple in all sorts of things: smoothies, curries, salads and I even use them in a fabulous mango-baked tofu recipe. It's hard not to want to add them to everything because they're sweet, full of vitamin C, vitamin A and fiber.
That said, one of the very best pairings I've ever found for mango is avocado. The richness of the avocado and the sweetness of the mango just work in perfect harmony. In Florida, I'd slice them both thin with a veggie peeler and put those long, thin slices on sandwiches. Here's my updated version of that delicious (and easy) lunch.
Sweet n' Spicy Mango-Avocado Wrap
1 mango, chopped
1 avocado, chopped
Baby spinach
Mango chutney
Sriracha
Wraps of your choice (2 to 4, depending on the size of your mango, avocado and wrap)
For each wrap: Spread a bit of mango chutney on the majority of the wrap. Dot sriracha (to taste) on top of the mango chutney. Layer a handful of baby spinach on top of the chutney/sriracha. Top with mango and avocado and roll up. Serves 2 to 4.
— Sarah Henning is a writer, blogger, vegetarian and mom. You'll usually find her eating something with kale in it.