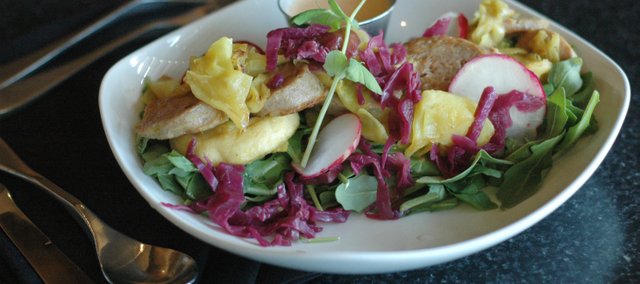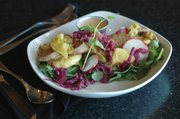 Off the Beaten Plate's first-ever featured salad is perfect for St. Patrick's Day, and the kind of dish that might even convert professed cabbage-haters. This gorgeously colored, cool-weather appropriate salad features candied red cabbage, warm green cabbage, soft apple rings, crisp red radish slices and bratwurst (it's local, from Steve's Meat Market of De Soto) over fresh arugula. It's served with a zippy and slightly creamy apple cider vinaigrette.
Where to get it: Mariscos, 4821 W. Sixth St.
What you'll pay: $9
Try it with: A baked potato or cup of soup and a light bodied craft beer — voila, a full meal!
Also on the menu: Crab fries (like poutine but fancy, with crab in mornay sauce instead of gravy and cheese atop the fries), pot roast sliders, fish tacos, lobster mac (and cheese, that is), plus steaks, chops, pastas, swordfish, salmon and trout.
— Off The Beaten Plate highlights some of the more exotic, oddly named or inventively concocted dishes from local menus. Know of an offbeat item we should check out? Email reporter Sara Shepherd at sshepherd@ljworld.com. Follow her at Twitter.com/saramarieshep.