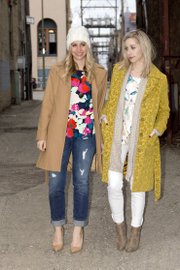 Just because it still feels like winter outside doesn't mean you can't start breaking out the quintessential spring colors we all know and love. I think we speak for everyone when we say it's difficult to transition from winter clothes to light, airy spring clothes complete with vibrant colors and feminine prints.
My outfits tend to become stale and predictable toward the end of winter until I decide to make that change and step into a refreshed spring look. Living around here doesn't typically allow us to start wearing spring clothes as we head into March, but we have put together some looks that will allow you to ease your way in and still be appropriately dressed for the weather.
The keyword here is layering. Layering allows you to still incorporate those new spring pieces into your wardrobe without freezing when you step outside.
I recently bought this cute floral peplum tank top from Anthropologie on the Plaza in Kansas City, but I'm definitely not going to sport a tank outside when it's still chilly. I paired the tank top with white skinny jeans and layered with a neutral-toned cardigan. Then on top of that, I layered my yellow coat to stay warm.
Ankle boots are fine to wear now, but as it gets warmer you can swap them out for flats or sandals.
Elizabeth donned her Gap floral peplum top with a wool coat layered over it, and warmed her look up even more with a beanie.
A few tips to keep in mind when sporting your spring prints and colors is to go for pieces in your closet that work well with the colors of the spring pieces. As you can see, we stuck with neutral-colored pieces like a camel wool coat, a cream-colored beanie and a sandy cardigan. All of these colors will allow your spring statement pieces to be front and center.
As the weather warms up, you can simply shed a layer and switch out the shoes.
— Emily and Elizabeth Kennedy are twin sisters and fashion bloggers who share a blog called Fashion Column Twins. Emily writes this column. They can be reached at fashioncolumnblog@gmail.com.