Every year around this time, as spring approaches, life seems to pick up the pace, wouldn't you agree?
Daylight-saving time occurs and suddenly, with the extended daylight, we embrace the grand illusion that we actually have more time in our day! It's a funny little trick that swallows me up every single year (please tell me I'm not alone in this). As a result, stress levels rise a bit (since we're over-committing ourselves and squeezing every minute of the daytime to put to good use), and before you know it, the frenzy of life has swept you away once again.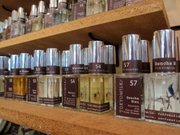 It's in these heated moments that we ought to remind ourselves of the importance of self-care and scheduled "me time" (as they say). It's remarkable what a bubble bath and a thick slathering of floral body cream before bed can do for your mind and body. With Bloom Bath and Body, 704 Massachusetts St., specializing in bath, body, bed and home, this boutique gently whispers "me time."
I visited Bloom in hopes of finding a simple treat for my mother-in-law. There's no shortage of options at Bloom: bubble bath, perfume, hand cream, mini jewelry dishes, pajamas and makeup bags, just to name a few. It's all ideal for gift-giving because of the small sizes of products and generally affordable price points.
What's more, the vibrant colors and feminine designs of the packaging make for added excitement and appreciation. The Library of Flowers products, for example, are so beautifully decorated with floral designs, I would buy a few just to brighten up my bathroom.
Another item that caught my eye was the TokyoMilk perfumes, which combine unique scents — such as hyacinth, iris, citrus zest and crisp greens — into one fresh experience. As you can imagine, it would be a delight to put together a gift basket incorporating many of these specialty items.
As usual, I had a difficult time deciding what items to buy for my gift (a good problem to have, in my opinion). Ultimately, I went with a mini jewelry dish ($7.95) and a package of relaxing bath milk ($14.95) from Library of Flowers. It's a great gift for someone who makes time for serious relaxation!
This type of gift can also serve as a reminder — a kind nudge, if you will — for someone who might be slightly stressed and frenzied. So enough with the grand illusion, let's be real: it's time to hit the pause button and embrace the almighty "me time."

— Jessica Pauly, aka Mrs. Mass., gives her thoughts on shopping, urban living and what's new in Lawrence in CheckOut weekly and on her blog, mrsmass.com.