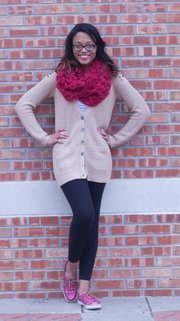 Age: 18
Hometown: Wichita
Occupation: I'm currently a student at KU.
Dream job: To be a doctor and to be a neonatologist.
What were you doing when scouted? I just got out of class.
Describe your style: I'd say semi-casual. I like to wear sweats a lot, but when I do dress up I usually like to wear Sperrys, a nice little scarf, sweater and just call it a day.
Fashion trends you love: I'm liking the boyfriend jeans, camo and a pair of Jordans.
Fashion trends you hate: I dislike guys in skinny jeans very much. It's really annoying.
Fashion influences: Teyana Taylor, Beyoncé and Seventeen magazine.
What would you like to see more or less of in Lawrence? More sneaker stores! That would be awesome! I think I like everything in Lawrence, so nothing less.
Whom do people say you look like? Keke Palmer
What type of music do you like? J. Cole and Drake.
Tell us a secret: I can't think of one right now.