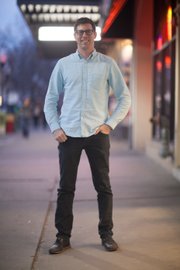 Age: 33
Hometown: Spokane, Wash.
Time in Lawrence: Three years
Relationship status: Happily married!
Occupation: I'm an art teacher.
What were you doing when scouted? Just took my dog, Finch, for a walk.
Describe your style: Cultivated fashionable logger.
Fashion trends you love: I enjoy rugged leather boots that will last a lifetime, well-tailored shirts with small collars and solid denim.
Fashion trends you hate: Loyalty to a brand to a fault and pajama pants in public.
What would you like to see more or less of in Lawrence? More rock and roll! Nothing pops into my mind for "less of."
Whom do people say you look like? That guy from "Catfish." Lee? What's his name?
What type of music do you unwind to? I would say deep, psychedelic, surf music.
Tell us a secret: I'm about to have a baby and it has shaken me to my core!