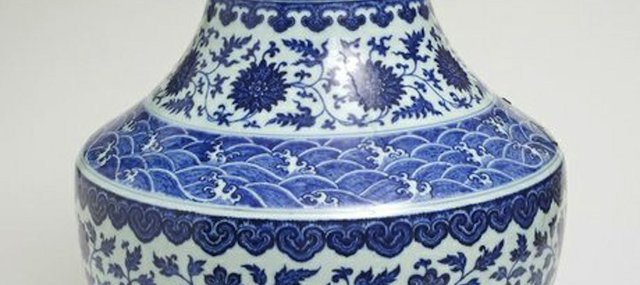 Today in Lawrence is an early morning digest of essential (and not-so-essential) info to start your day in Lawrence and Douglas County.
Fragile beauty
The Spencer Museum of Art's opulent gathering of objects, "Empire of Things," is the star of the show at 10 a.m., with a focus on blue and white ceramics. Curator Kris Ercums will guide guests through the history and significance of some of the collection's major ceramic works in the free Senior Sessions: Blue and White Ware program, designed for seniors but open to everyone, 1301 Mississippi St. Check out our gallery of photos from the entire collection here.
Rental fight
The battle over who has the most say in a revised proposal to license apartments in Lawrence enters its next stage tonight. From 6 to 8 p.m. at Lawrence High School, 1901 Louisiana St., residents can weigh in via public meeting on the plan, which among other things would adopt a list of 27 violations that could cause an apartment to lose its rental license.
True voices
If you caught this spot yesterday, you saw us raving about all the great music at Liberty Hall, 644 Massachusetts St., this week. Rounding out the goodness at 8 tonight is Ladysmith Black Mambazo, the all-male South African choir that's been charming the world for more than five decades. A few tickets are still up for grabs; more info here. Doors open at 7.
Spring returns
And now that we got that 40-plus-degree-temperature-swing-from-sunshine-into-driving-rain-and-sleet-in-less-than-24-hours out of the way ... today's forecast actually looks pretty good. High of 69, lows in the 40s, sane winds and more of the same into the weekend.
Yesterday's most-read
More March 13 events
Red Dog's Dog Days workout, 6 a.m., Allen Fieldhouse, 1651 Naismith Dr.
Story Time for Preschoolers, 10-10:30 a.m., Prairie Park Nature Center, 2730 Harper St.
Skillbuilders: "After a life loss, learning to live again," 10-11:30 a.m., Drury Place at Alvamar, 1510 St. Andrews Dr.
Cottin's Hardware Farmers Market - Indoors! 4-6 p.m., Cottin's Hardware and Rental, 1832 Massachusetts St.
The Open Tap, discussion of a selected religion topic, 5:30-7 p.m., 5 Bar and Tables, 947 Massachusetts St., free.
Science Class Filmstrip Night: March, 6-7:30 p.m., KU Natural History Museum, 1345 Jayhawk Blvd.
Robert Hiller & KU School of Music performers: An Evening of German Lieder, 7 p.m., Lawrence Arts Center, 940 New Hampshire St.
Baker University Community Choir Rehearsal, 6-8 p.m., McKibben Recital Hall (Owens Musical Arts Building), 408 Eighth St., Baldwin City.
VFW Game Night: Cards Against Humanity, 7 p.m., VFW Post 852, 1801 Massachusetts St.
Junkyard Jazz Band, 7 p.m., American Legion, 3408 W. Sixth St.
Free English as a Second Language class, 7-8 p.m., Plymouth Congregational Church, 925 Vermont St.
Affordable community Spanish class, 7-8 p.m., Plymouth Congregational Church, 925 Vermont St.
Lawrence Arts & Crafts group, 7-9 p.m., Merc cafe, 901 Iowa St., free.
Signs of Life Bluegrass Gospel Jam, 7-10 p.m., Signs of Life, 722 Massachusetts St.
Team trivia, 9 p.m., Johnny's West, 721 Wakarusa Drive.
Thursday Night Karaoke, 9 p.m., Wayne & Larry's Sports Bar & Grill, 933 Iowa St.