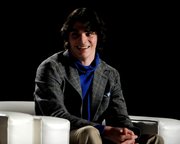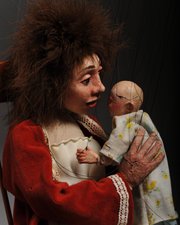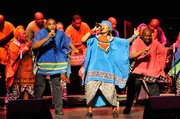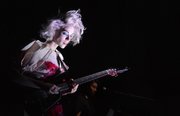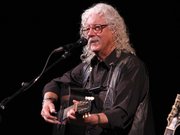 Other events of note
• Scott Stapp, 8 p.m. March 25, The Granada
• Son Venezuela 20th anniversary show, 10 p.m. March 29, The Granada
• "Broadway's Next Hit Musical," 7:30 p.m. April 4, Lied Center
• 34th Annual Benefit Art Auction, 5:30 p.m. April 12, Lawrence Arts Center
• Serkan Çağri Band, 7:30 p.m. April 17, Lied Center
• Spring Fling: A Burlesque Prom, 10 p.m. April 19, The Granada, (18 and up)
• KU SUA Presents: RETTA, 8 p.m. April 22, Liberty Hall
• Celtic Women, 7:30 p.m. April 26, Lied Center
• KJHK's 20th Annual Farmer's Ball, April 19 (semifinals) and April 26 (finals), The Bottleneck
• The Faint, 8 p.m. April 27, The Bottleneck
• 14th Van Cliburn International Piano Competition Gold Medal Winner Vadyn Knolodenko, 7:30 p.m. April 8, Lied Center
• John Cale with Drakkar Sauna, 8 p.m. April 15, Lawrence Arts Center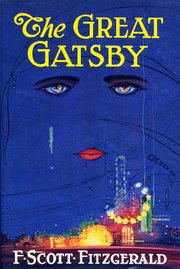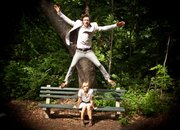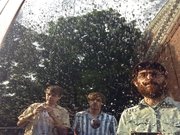 R.J. Mitte
7 p.m. March 27, Kansas Union (Woodruff Auditorium), free
Actor R.J. Mitte, from AMC's Emmy-winning series "Breaking Bad," is coming to Kansas University as a part of Center for Community Outreach's "Into the Streets Week." Mitte is an advocate for actors with disabilities and a representative of "Inclusion in the Arts and Media of Performers with Disabilities," having a mild form of cerebral palsy like the character he played on "Bad," Walt "Flynn" Jr. His lecture will include his personal story, an actor of nine years (seven of which were on "Breaking Bad") and an inspirational reminder that those with disabilities shouldn't let that define who they are; they can actually work toward their advantage. For those without disabilities, it's a lesson in recognizing the tendency to define people as disabled and to correct that.
Cashore Marionettes
"Simple Gifts" — at 5 p.m. April 11 and 2 p.m. April 12, $8-$19, the Lied Center; "Life in Motion" — 7:30 p.m. April 11 and 12, $8-$19, the Lied Center
Offering two showings of two different shows, The Cashore Marionettes is an evening of marionette masterworks by Joseph Cashore, who has been in the puppetry business for 30 years. In "Simple Gifts" the marionettes will offer a theatrical rendition of everyday life scenes set to musical works of Vivaldi, Strauss, Beethoven and Copland. Showing a wide range of emotions, Cashore shows what it means to be human through amazingly convincing inanimate characters. In "Life in Motion," Cashore's hand-built marionettes replicate stunning effects, like toes wiggling from the hole in a shoe and a mother holding her squirming newborn.
Soweto Gospel Choir
7:30 p.m. March 29, the Lied Center, $12-$26
Grammy-winning South African ensemble the Soweto Gospel Choir is celebrating its 10-year anniversary on this tour with tribal, traditional and popular African and international gospel songs. They are known for rich harmonies, a capella and percussive elements, colorful traditional outfits and joyful choreography. The members have diverse backgrounds. which explains the numerous languages they sing in, including English to Xhosa, Zulu and Sotho, which in no way affects the meaning translated to listeners who don't understand the various languages, says longtime member Shimmy Jiyane. The group last performed at the Lied Center in 2008, and have shared the stage with Bono, Josh Groban, Cat Stevens and Annie Lennox, to name a few.
St. Vincent
8 p.m. March 31, Liberty Hall, $25-$30
Annie Clark, aka St. Vincent, is coming to Liberty Hall in support of her self-titled and quite possibly most genuine record, self-described as "a party record you could play at a funeral." Released last month — worked on just 36 hours following a tour with David Byrne — this collection of experimental synthy-pop ballad-inspired songs have a more organic sound than her previous three records and labeled the artist as truly fearless. With heavy guitar licks, distortion and bold (not out of character) lyrics, this album is boundless; her song "I Prefer Your Love" proves that, requiring a strong sense of confidence to say "I prefer your love / to Jesus."
Arlo Guthrie
8 p.m. April 1, Liberty Hall, $35-$100
Son of iconic folk singer Woody Guthrie (who composed "This Land is Your Land"), Arlo Guthrie is notorious for his songs protesting against social injustice, following in the footsteps of his father. "Alice's Restaurant" is his most famous piece, an 18-minute-long talking blues song — 18 minutes and 34 seconds to be exact, which is the length of one of the famous gaps in Richard Nixon's Watergate tapes. The song is a critique on the Vietnam War structured within a true incident where Guthrie is called up for a draft examination, and is rejected for the military as a result of a criminal record from one arrest, court appearance, fine, and clean-up order for littering and creating a public nuisance on Thanksgiving Day in 1965, when Arlo was 18 years old. In concert, he has been known to extend the song out to 45 minutes.
'The Great Gatsby'
April 11-27, Theatre Lawrence
Simon Levy's award-winning stage adaptation of F. Scott Fitzgerald's classic novel will bring the glamour and magnificence of the Jazz Age to the Theatre Lawrence stage. The play tells the story of Jay Gatsby, a self-made millionaire passionately pursuing long-lost love Daisy Buchanan (and the American Dream) through a series of extravagant parties in the backdrop of Roaring Twenties.
Mates of State
April 15, The Granada, $15 in advance and $17 at the door
Indie pop band Mates of State, consisting of husband and wife Kori Gardner and Jason Hammel, are making their way back to their hometown of Lawrence. We will still claim them even though they've lived in Connecticut for about five years now, and California before that where they married. Together since 1996 and married since 2001, they toured (as parents) all over the world with the likes of Palomar, Jimmy Eat World, Taking Back Sunday, Spoon and Death Cab for Cutie. Three EPs and seven full-length albums later, no other two exemplify "power couple" better than these two. Their latest album "Mountains" was released in 2011; this is being described by them as a seated acoustic piano/drums/voices/strings/horns tour.
Love Garden's 24th Anniversary Celebration
May 4, SeedCo. Studios, $12 in advance, $15 at the door
For the Love Garden's 24th birthday, SeedCo. Studios is hosting a party with food, drinks and a lot of music. One of the local record store's favorite acts is already confirmed: Woods, a folk-rock band out of Brooklyn. They were described by Pitchfork as "a distinctive blend of spooky campfire folk, lo-fi rock, homemade tape collages, and other noisy interludes, all anchored by deceptively sturdy melodies," in a 2009 album review. Love Garden noted the perfect timing with a new Woods album coming out April 15 of this year. Other confirmed bands include Blood on the Wall, and locals OILS and Your Friend, but they are looking to announce many more closer to the birthday party.

Morrissey
May 20, Liberty Hall, $60-$140
Lead singer of indie band The Smiths, Morrissey is in the studio hard at work on his first album since 2009's "Years of Refusal." The alt-rock icon new album, "World Peace Is None of Your Business," is to be released provisionally between June and July. It's taken him so long to release a new album because he was waiting on the right record deal; he told The Village Voice in 2012, "I'm independent enough without selling CDs out of the back of a van." He's also in the midst of a novel, prompted by the success of his autobiography, which was published last year. As long as he remains healthy and the funds keep coming in (two reasons for completely axing his last tour, which was supposed to stop in Lawrence), Morrissey will be here in May.
John McCaughey
May 23-June 22 (Insight Art Talk on May 29), Lawrence Arts Center, free
Lawrence Arts Center resident artist and printmaker John McCaughey will have a featured exhibit called "Not Compatible: New works by John Paul McCaughey" that opens May 23 at the Arts Center and runs through June 22. He's been teaching and working on a new body of work at Lawrence Arts Center all year. On his personal site McCaughey shows the progress of soon-to-featured installation with 400 rectangular pieces of CMYK-colored cloth to be glued to wire mesh, inspired by a test print for a new ink cartridge. In this series, he is exploring a new aesthetic movement inspired by Microsoft Tags, the latest form of codes designed for smart phones. "I have become aware of how prevalent pixilation is in our society," he says on his site. "What I appreciate most are how pixels are not only being used as a way to see our world, but also as a way to conceal or censor it."