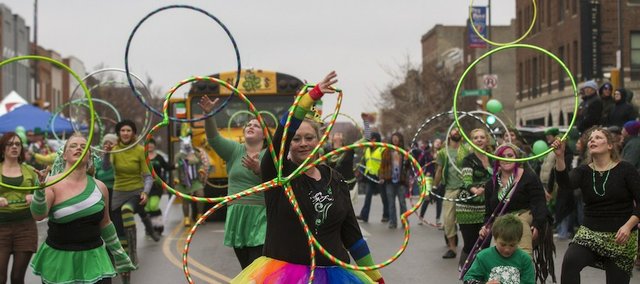 Today in Lawrence is an early morning digest of essential (and not-so-essential) info to start your day in Lawrence and Douglas County.
Green day
Happy St. Patrick's Day 2014! Now brace yourself for some madness.
The fun starts at 9 a.m., when early-bird entries for the Lawrence St. Patrick's Day Parade start lining up east of South Park on Rhode Island, stretching south from 12th Street. The largest floats will congregate in a zone between 15th and 17th streets, if you're hoping to get a sneak peek. They have to be checked in by 10 a.m.
The general parade check-in deadline is 11 a.m. The suggested entry donation for the parade is $25 for families and individuals, $100 for businesses. And, of course, it's all free to watch from the sidelines.
The parade officially kicks off at 1 p.m. from 11th and Massachusetts streets, heading north through downtown Lawrence and ending at 501 N. 9th St., across the Kansas River Bridge. Lots of road closings and detours will be posted in and around the parade route, with local bus service affected, too. Check out lawrencetransit.org for more info.
Green-light weather
The 1 p.m. forecast for downtown Lawrence: 50 degrees and sunny, with a slight breeze and no chance of precipitation through the afternoon. Things will warm up to around 60 degrees by mid-afternoon, setting the trend for Tuesday-Friday highs of 63-60-71-65 before another cool-off this weekend.
Green alternatives
If marching bands, pageant winners and crazy townies aren't your thing, there are plenty of other St. Patrick's Day options in and around Douglas County. At 2 p.m., brave the parade route and head for the Granada, 1020 Massachusetts St., for the music of SELLOUT! in a benefit for the Lawrence Boys & Girls Club. There's also plenty of action at the Bottleneck, 737 New Hampshire St., and other downtown hotspots. Or hit the greens yourself at 4 p.m. at the Eagle Bend Golf Course, 1250 E. 902nd Road, with other competitors in the O'Eagle Bend Shamrock Scramble.
And before you turn green ...
Be sure to read this hydration tip sheet, 10 reasons you should drink more water, from the folks at the Metabolic Research Center in Lawrence. Dehydration is a big concern on St. Patrick's Day, whether you're sweating it out along the parade route or, well ... try to drink at least one glass of water for any one glass of the other stuff you imbibe. And if you're drinking bottled water, our tweet of the day reminds you to be cool and recycle.
Yesterday's most-read
More March 17 events
Lecompton City Council meeting, 7 p.m., Lecompton City Hall, 327 Elmore St.
Kenny Massy, Kansas Department of Labor: "Employment Fraud," 7 p.m., Eudora United Methodist Church Fellowship Room, 2084 N.1300 Rd., Eudora.
Kaw Valley Quilters Guild: Elsie Campbell, "Winning Stitches – Hand Quilting," 7-9 p.m., Plymouth Congregational Church, 925 Vermont St.
Baldwin City Council meeting, 7:30 p.m., City Hall, 803 S. Eighth St.