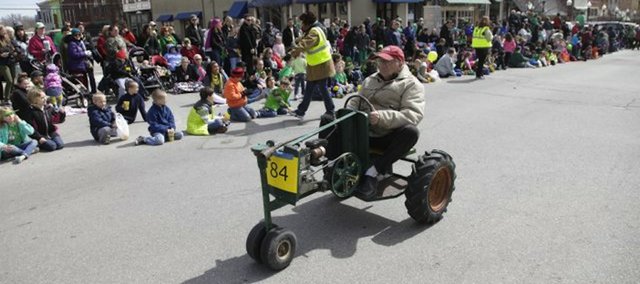 Today in Lawrence is an early morning digest of essential (and not-so-essential) info to start your day in Lawrence and Douglas County.
Corned beef mulligan
Unless you're the city administrator of Tonganoxie, whose decision to ticket a man painting the traditional St. Patrick's Day parade "green stripe" may have you turning green for years to come, the leprechauns have leapt away. But there's still time for you to cash in some traditional Irish eats. Wheatfields Bakery and Cafe, 904 Vermont St., is serving up corned beef and cabbage with oatmeal stout mustard cream sauce, baby red potatoes, caramelized carrots and peas with Irish soda bread ($12.95) as a dinner special for the rest of March. Dinner specials start at 5 p.m., but you'll need to get there soon after if you want to catch some corned beef. Supplies are limited.
Speaking of mulligans ...
The plus-side of yesterday's weather was no rain, but the chilly temperatures left some folks asking for a do-over. Today looks considerably warmer, with a projected high of 67 and gusty winds around 25 mph. Low of 34 overnight.
Love notes
Finally, if spring break has you stranded midweek in search of nice tunes, check out tonight's lineup at the Replay Lounge with Canadian outfit TOPS and Calvin Love. Love, a lo-fi crooner from Edmonton, blends synthesizers and cool vocals for something David Lynchian, but danceable. 18+ with cover.
Yesterday's most-read
Other March 18 events
Red Dog's Dog Days workout, 6 a.m., Allen Fieldhouse, 1651 Naismith Dr.
Kaw Valley Quilters Guild: Elsie Campbell, "Winning Stitches – Hand Quilting," 9:30-11:30 a.m., Plymouth Congregational Church, 925 Vermont St.
Kaw Valley Seniors Circle, 2-3:30 p.m., Unitarian Fellowship of Lawrence, 1263 North 1100 Rd.
Lawrence-Douglas County Bicycle Advisory Committee, 5 p.m., Parks & Recreation Conference Room, 1141 Massachusetts St.
Big Brothers Big Sisters of Douglas County volunteer information, 5:15 p.m., 2518 Ridge Court.
Lonnie Ray's open jam session, 6-10 p.m., Slow Ride Roadhouse, 1350 N. Third St., no cover.
Marx Madness: "A Night at the Opera," 7 p.m. Liberty Hall, 644 Massachussetts St.
Plymouth Language Program: Free English as a Second Language class, 7-8 p.m., Plymouth Congregational Church, 925 Vermont St.
Plymouth Language Program: Affordable community Spanish class, 7-8 p.m., Plymouth Congregational Church, 925 Vermont St.
Tuesday Concert presents: Walt Babbit & Friends, 7:30-8:30 p.m., Lawrence Arts Center, 940 New Hampshire St.
Gamer Night, 8 p.m., Burger Stand at the Casbah, 803 Massachusetts St., free.
Slideshow photography group, 8 p.m., Gaslight Gardens, 317 N. Second St.
Free swing dancing lessons and dance, 8-11 p.m., Kansas Room in the Kansas Union, 1301 Jayhawk Blvd.