Wednesday, March 19, 2014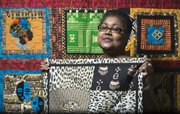 More Network to Freedom sites
Several other Lawrence and Douglas County spots are included in the National Underground Railroad Network to Freedom Program database. They are:
• Dr. John Doy House (archeological ruins)
• John E. Stewart Property
• Joseph Gardner Cabin Site
• Underground Railroad in Douglas County, Kansas
• Watkins Community Museum of History
• Henry Hiatt House Site, Twin Mound
For more information on each, find the database online at nps.gov/subjects/ugrr.
Quilter Marla Jackson's African American Museum and Textile Academy will be added to the National Underground Railroad Network to Freedom Program, network leaders decided this month.
Jackson, whose studio and the museum are at 2001 Haskell Ave. inside Independence Inc., is known for her art quilts, particularly those reflecting African-American history.
Through her Textile Academy, Jackson teaches students research, design, textile dyeing and sewing to tell stories through quilts. One of Jackson's latest quilts, which students helped create, is titled "Still We Rise" and highlights the role black people played in Quantrill's Raid and the border war that surrounded it.
Deanda Johnson, Midwest regional coordinator for Network to Freedom, said Jackson's work gets youth interested in the Underground Railroad.
"The program is also a creative example of project-based learning, which is recognized as one of the most effective means of educating for various learning styles and abilities," Johnson said in an email. "It also results in beautiful works of art which stand on their own, showing the abilities of students to not only understand the history of the Underground Railroad, but present this information to the public."
In an announcement about the listing, Jackson said of her program: "The process demonstrates the power of art to heal and strengthen self-esteem while enhancing learning opportunities using alternative avenues."
The Network to Freedom program coordinates preservation and education efforts nationwide and integrates local historical places, museums and interpretive programs associated with the Underground Railroad.  
The database includes more than 500 sites, programs and facilities, said Diane Miller, national program coordinator. Jackson's was one of 23 new listings added this week.
Being listed makes the program eligible for grant funding, when available, Miller said. Grants are awarded through a separate competitive process.