Wednesday, March 19, 2014
One of the best parts of spring is gathering on a back porch with friends on warm evenings and enjoying a round of cocktails. For ease of both pouring and drinking, one of our new favorite drinks to enjoy in such fashion is a barrel-aged Manhattan.
The concept of barrel-aged cocktails was first popularized several years ago by Jeffrey Morgenthaler, a Portland bartender. Essentially, you take all of the ingredients for your drink and age them in an oak barrel for about six weeks. The result is a smoother, more interesting libation that needs nothing more than one fat cube of ice to clink in the bottom of the glass as you sip it down.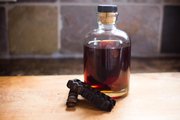 Morgenthaler makes his barrel-aged cocktails in restaurant quantities and ages them in small oak barrels. If you want to go that route, Tuthilltown Spirits (tuthilltown.com) sells suitable barrels for under $100.
If your aspirations are only to serve a few friends, however, Tuthilltown also sells oak infusion spirals, which can be used to age much smaller quantities. The spirals, which are essentially small pieces of charred wood, are simply left to float in your liquor and then strained out when the aging process is complete.
At $10 for three spirals, I decided to take this more economical route when I packaged up a "Barrel-Aged Manhattan Kit" as a gift for my husband. He dutifully mixed our brew of rye whiskey, vermouth, bitters and one oak spiral. And then we waited.
Actually, that's a lie. We took a lot of sips as the aging process commenced, and, sure enough, the drink did get noticeably better at about a month and better still at six weeks. We thought about giving it a full two months just to be really scientific, but it was just too good to last that long.
While the aging process does take planning ahead, once you have a bottle or two prepared, you'll need nothing else — other than perhaps a few good friends and some great conversation — to enjoy a perfect spring evening outside.
Barrel-Aged Manhattan
1 750 mL bottle of rye whiskey (we used Bulleit)
1 375 mL bottle of sweet vermouth
1 1/2 tablespoon Angostura bitters
1 oak spiral
Using a pretty bottle or half-gallon canning jar, mix all of the ingredients together. Cap the jar and set it aside for about six weeks. While I don't know that it's necessary, we swirled the contents of our jar once a week or so.
Once the six weeks are up, strain off the oak spiral. You can use it again several times. Enjoy your Manhattan as-is, with a single ice cube, or with a fancy cherry, if you must.
— Scaled recipe adapted from Boozed and Infused, boozedandinfused.com
— Meryl Carver-Allmond lives in Lawrence and writes about chickens, babies, knitting, gardening, food, photography, and whatever else tickles her fancy on any given day at www.mybitofearth.net.