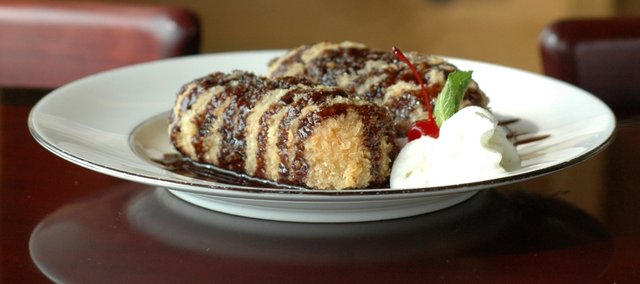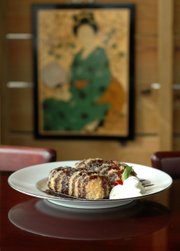 On the one hand, fried Twinkies at a sushi place don't make sense. On the other hand, the way Yokohama makes them, they kind of do. Instead of loading them with pancake batter and serving them on a stick (à la the county fair), Yokohama takes a two-pack of Twinkies, fries them in sweetened panko batter and plates them with clover honey, chocolate sauce, a little pouf of whipped cream and a mint leaf.
Where to get it: Yokohama, 1730 W. 23rd St. (also available at Yokohama's downtown location, 811 New Hampshire St.)
What you'll pay: $2.99
Try it with: Dinner first.
Also on the menu: Sushi, sushi and more sushi, plus a variety of Japanese and other Asian entrees, rice, noodle dishes and bento boxes. Other fried desserts include cheesecake, ice cream or bananas.
— Off The Beaten Plate highlights some of the more exotic, oddly named or inventively concocted dishes from local menus. Know of an offbeat item we should check out? Email reporter Sara Shepherd at sshepherd@ljworld.com. Follow her at Twitter.com/saramarieshep.