With basketball season in full swing, it seems only appropriate to visit one of the more popular Massachusetts Street spots to catch a game and eat some wings (or oysters/burgers/anything on the menu, really). Jefferson's has been serving the Lawrence community since 2000, and they're best known for their wings, oysters and fried pickles. If you're jonesing for a hot meal, cold beer and lively atmosphere, Jefferson's will treat you right.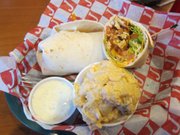 The first Jefferson's restaurant opened in Jacksonville, Ala., in 1991. The Lawrence location was the second, and today, between Georgia, Tennessee, Alabama, Illinois and Kansas, there are more than a dozen Jefferson's restaurants across the country.
With the family-friendly sports theme, this place is often busy and usually has a pretty great special going on, to boot. Posting their specials on social media sites (Facebook and Twitter), Jefferson's will occasionally announce 45-cent wings, $5 burgers, half-price appetizers, and if you're lucky enough, a free side order of fried pickles!
Besides having multiple locations across the country and rockin' some serious specials, this place is also unique in that it is covered in dollar bills. Yep, covered!
It's quite the sight to see in person. Happy customers have been leaving their "mark" on the walls for years. In fact, if you'd like to make your own contribution, Jefferson's menu instructs customers to ask the wait staff for markers and push pins if interested. Talk about serious buy-in from loyal customers!
As you can tell, Jefferson's is pretty great (and I haven't even mentioned our food orders yet). The restaurant offers the tried and true staples: apps, salads, wings, sandwiches, wraps, baskets, oysters and kids menu. Easy, right?
I went with the chicken finger wrap with potato salad on the side. The mister ordered a cheeseburger with fries and wings. And of course, we had to get the fried pickles.
I know that many of you out there have experienced Jefferson's, but for those few who haven't, let me leave you with this: fried pickles are where it's at.
The wrap was great, and the potato salad — better than my mom's (sorry, Mom)! But fried pickles are a specialty, and Jefferson's has it down pat. It goes without saying that we left with happy bellies and leftovers for the next day, too.
Our total for the meal — with a beer and lemonade included — came to just $26.58. The meal was great, the game was on and the crowd was energetic; it was an excellent evening out!
— Jessica Pauly, aka Mrs. Mass., gives her thoughts on shopping, urban living and what's new in Lawrence in CheckOut weekly and on her blog, mrsmass.com.