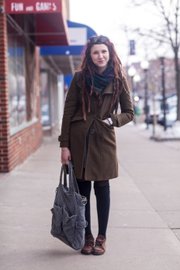 Name: Hannah Hankins
Age: 20
Hometown: Independence, Mo.
Time in Lawrence: Just visiting.
What were you doing when scouted? Going to get some food.
Describe your style: I don't know. I have no idea how to answer that honestly.
Fashion trends you love: I don't think I even know of any right now.
Fashion trends you hate: I guess I kind of hate fur. Other than that I don't really care.
Fashion influences: I don't follow anything specific. It's whatever that I see and like.
What would you like to see more or less of in Lawrence? Nothing really. I haven't spent enough time to say.
What type of music do you like? I listen to everything far or less and it depends on my mood.
Tell us a secret: I'm pretty open about everything!