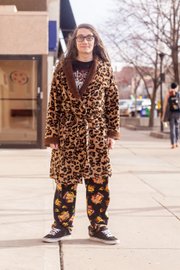 Name: Jesse Lee Miller
Age: 17
Hometown: Kearney, Neb.
Time in Lawrence: Five years
Occupation or hobbies: I just kind of sit around in my basement and play music and games.
Dream job: To be in the music industry or a job that will pay me what I need to survive; one that will not stress me out.
What were you doing when scouted? I was going to get some ice cream with my girlfriend.
Describe your style: I like to wear bathrobes, pajama pants — anything that makes it seem like I just got out of bed or the shower. It's laid back.
Fashion trends you love: I just like people that do whatever: people that be themselves and that aren't concerned with others.
Fashion trends you hate: People that wear the same clothes or outfits where everybody looks the same. At least here, there's a lot more diversity when it comes to style.
Fashion influences: The Dude from "The Big Lebowski"
What would you like to see more or less of in Lawrence? Lawrence is actually cool. Less drunk college kids.
Whom do people say you look like? Tiny Tim when I wear a suit and that Skrillex guy.
What type of music do you like? I like metal, although I like a lot of music from the '70s like Pink Floyd and bands like that.
Tell us a secret: I hate hamburgers.