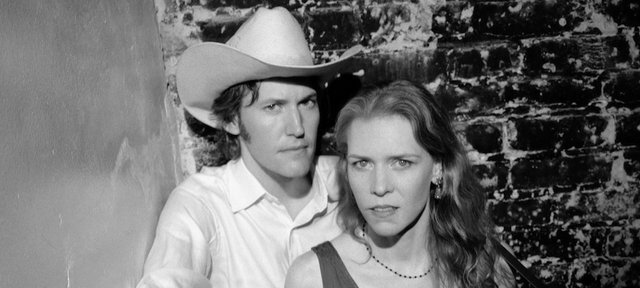 Today in Lawrence is an early-morning digest of essential and not-so-essential info to start your day in Lawrence and Douglas County. Click here for past installments.
March Madness
Andrew Wiggins and the rest of KU's freshman phenoms are primed and ready for March Madness. The Jayhawks don't play until Friday afternoon, but tourney action begins today across the country. You have until 11 a.m. to enter our bracket challenge and win one of several amazing prizes, including a two-night stay at the Oread Hotel or $200 to shop in downtown Lawrence.
Speaking of Jayhawks ...
Your last chance to revisit the glory and legacy of KU basketball through Kevin Willmott's film "Jayhawkers" at Liberty Hall comes at 6:45 tonight. Justin Wesley as Wilt Chamberlain alone is worth a visit on the big screen.
Under the radar
Finally, they're coming to Kansas City, not Lawrence, and the concert isn't for another couple months, but Gillian Welch and Dave Rawlings demand your attention this morning. Possibly the greatest living American songwriting duo has just announced a rare tour date June 24 at KC's Uptown Theater. Tickets go on sale at 10 this morning and will no doubt be sold out by the end of the day. You heard it here first.
Yesterday's most-read
Other March 20 events
Red Dog's Dog Days workout, 6 a.m., Allen Fieldhouse, 1651 Naismith Dr.
Story Time for Preschoolers, 10-10:30 a.m., Prairie Park Nature Center, 2730 Harper St.
Skillbuilders: Legal Planning, 10-11:30 a.m., Drury Place at Alvamar, 1510 St. Andrews Dr.
League of Women Voters Brown Bag Lunch: Dr. Joe Douglas, Bert Nash: "Mental Health Matters: Are We Doing Enough?" Informal discussion 11:30 a.m., presentation noon-1 p.m.; Watkins Musuem of History, 1047 Massachusetts St.
The VodVill Klown Returns! 1:30-2:15 p.m., Carnegie Building, 200 W. Ninth St. (Ages 5 and up.)
Cottin's Hardware Farmers Market - Indoors! 4-6 p.m., Cottin's Hardware and Rental, 1832 Massachusetts St.
The Alzheimer's Association- Caregiver Support Group, 5:30-6:45 p.m., Conference Room D-South, Lawrence Memorial Hospital, 325 Maine St.
The Open Tap, discussion of a selected religion topic, 5:30-7 p.m., 5 Bar and Tables, 947 Massachusetts St., free.
Sons of the Union Veterans, 6:30 p.m., Watkins Community Museum of History, 1047 Massachusetts St.
Junkyard Jazz Band, 7 p.m., American Legion, 3408 W. Sixth St.
Collection Conversations: Birds with Town Peterson, KU Natural History Museum, 1345 Jayhawk Blvd.
Free English as a Second Language class, 7-8 p.m., Plymouth Congregational Church, 925 Vermont St.
Affordable community Spanish class, 7-8 p.m., Plymouth Congregational Church, 925 Vermont St.
Signs of Life Bluegrass Gospel Jam, 7-10 p.m., Signs of Life, 722 Massachusetts St.
Team trivia, 9 p.m., Johnny's West, 721 Wakarusa Drive.
Thursday Night Karaoke, 9 p.m., Wayne & Larry's Sports Bar & Grill, 933 Iowa St.