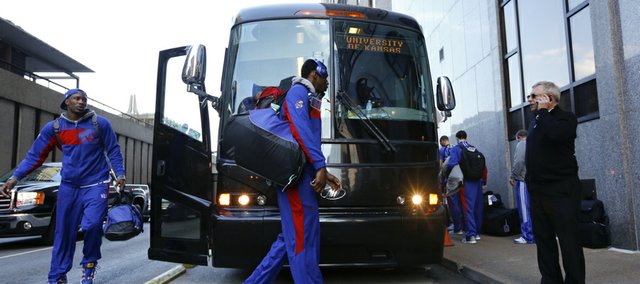 Today in Lawrence is an early-morning digest of essential and not-so-essential info to start your day in Lawrence and Douglas County. Click here for past installments.
First, let's talk weather
We'll go out on a limb and say it's highly unlikely many people in Lawrence will be anywhere but in front of a TV this afternoon, but if you do head out in spite of March Madness, take heart: Today's high will be 65, with sunny skies and a cool breeze. The rest of the weekend, though, doesn't look so good. Temperatures will be in the 40s Saturday and Sunday, with increasing chance for rain as the weekend limps along.
Now, on to the big show
The No. 2 Kansas University Jayhawks (24-9) face the No. 15 Eastern Kentucky Colonels (also 24-9) at 3:10 p.m. in the south bracket of the NCAA tournament in St. Louis. TBS has the TV coverage.
The Jayhawks will be without freshman center Joel Embiid, who's been ruled out with a back injury, but Andrew Wiggins and crew still like their chances against undersized EKU. If the heavily favored Jayhawks pull off the victory, they'll next face the winner of New Mexico vs. Stanford on Sunday. Everything you need to know is over at KUSports.com.
If you're looking for a spot to watch the games this weekend, you could do worse than the big screen at Liberty Hall, 644 Massachusetts St. Doors open 30 minutes before tip-off. 21+ with ID required.
Photo realism
Speaking of big screens: Liberty Hall is serving up another treat starting this afternoon. New documentary "Tim's Vermeer" follows inventor Tim Jenison's global journey to unlock the secrets of 17th century Dutch master Johannes Vermeer ("Girl with a Pearl Earring"). Critical reception to the film so far is super fresh, according to Rotten Tomatoes. Screenings: 2:30 and 7:20 p.m. today; 2:15, 4:45 and 7:20 p.m. Saturday; Sunday times TBA depending on the Jayhawks.
Let it Snow
Finally, if you're looking for a rough and rowdy way to start your weekend, check out Atlantic Records artist Snow Tha Product, 8 tonight at The Granada, 1020 Massachusetts St. The hip-hop dynamo from California is on a quest to leave no mic unturned. We'd link to some of her music here, but that could get us fired. Let Google be your guide. $15, doors at 7.
Yesterday's most-read
Other March 21 events
Honey Beezz Flea Market, 9 a.m.-6 p.m., Columbus Hall, 2206 E. 23rd St.
Mike Shurtz Trio, 10:15-11:15 a.m., Signs of Life, 722 Massachusetts St.
Naked Lunch, Featuring Art in the Raw: Jay Bird, noon, Lawrence Arts Center, 940 New Hampshire St.
New Horizons Band concert, 3:45 p.m., Pioneer Ridge Health Center, 4851 Harvard Drive.
Ecumenical Lenten Taize Service, 6-7 p.m., Trinity Lutheran Church, 1245 New Hampshire St.
VFW Dinner: AB Taco Bar, 7 p.m., VFW Post 852, 1801 Massachusetts St.
Author Reading: Lindsey Yankey, "Bluebird," 7 p.m., The Raven Book Store, 6 E. Seventh St.
Other March 22 events
Red Dog's Dog Days workout, 7:30 a.m., parking lot in 800 block of Vermont Street.
St. John Catholic Church Rummage Sale, 8:30 a.m.-12:30 p.m., 1246 Kentucky St.
Honey Beezz Flea Market, 9 a.m.-6 p.m., Columbus Hall, 2206 E. 23rd St.
Yard Waste Drop-Off and Compost/Woodchip Sale, 10 a.m.-4 p.m., Wood Recovery and Compost Facility, 1420 E. 11th St.
League of Women Voters Luncheon honoring Laura D. Routh, 11:30 a.m., Brandon Woods Smith Center, 1501 Inverness Dr.
Book Signing: Sharie Heading, "I Won't Let Go," 2 p.m., Hastings Entertainment, 1900 W. 23rd St.
Kansas Appleknocker Classic Ragtime Duo, 2-4 p.m., Watkins Community Museum, 1047 Massachusetts St.
Americana Music Academy Saturday Jam, 3 p.m., Americana Music Academy, 1419 Massachusetts St.
Headpin Challenge, 6-9 p.m., Royal Crest Lanes, 933 Iowa St.
Ballroom/Latin Practice Party, 7-9 p.m., Lawrence Senior Center, 745 Vermont St.
Arnie Johnson and The Midnight Special, 8 p.m., Slow Ride Roadhouse, 1350 N. Third St.
March 23 events
Honey Beezz Flea Market, 9 a.m.-3 p.m., Columbus Hall, 2206 E. 23rd St.
Unitarian Chamber Series: Spencer Consort, 2:30 p.m., Unitarian Fellowship of Lawrence, 1263 N 1100 Rd.
Basic Personal Finance & Investing, 4-6 p.m., Christ Community Church, 1100 Kasold Dr.
Irish Traditional Music Session, 5:30-8 p.m., upstairs Henry's on Eighth, 11 E. Eighth St.
O.U.R.S. (Oldsters United for Responsible Service) dance, 6-9 p.m., Eagles Lodge, 1803 W. Sixth St.
Smackdown! trivia, 8 p.m., The Bottleneck, 737 New Hampshire St.