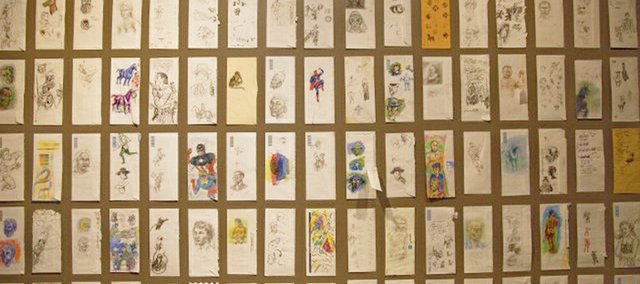 Today in Lawrence is an early-morning digest of essential and not-so-essential info to start your day in Lawrence and Douglas County. Click here for past installments.
Deeply felt
Tom Moore gave up painting when he began to suffer from Parkinson's disease. In its place, the Kansas City artist started sketching in other mediums. Today begins the final week his wonderful results are on display at the Lawrence Arts Center's Antecedent Gallery, 940 New Hampshire St., from 9 a.m. to 9 p.m. "I have found the real value of art," Moore says, "to be in the spiritual uplift it offers me and those with whom I can share it." Check it out before it's gone.
Historical intrigue
On the eve of the 1898 World's Fair, con man Ferret Skerritt isn't quite sure what's next. Omaha still has the marks of a filthy Wild West town, even as it attempts to achieve the grandeur and respectability of nearby Chicago. But when he crosses paths with the beautiful and enigmatic Cecily, everything changes. Timothy Schaffert, author of "The Swan Gondola," will share the rest of Skerritt's story in a free reading at 7 tonight at The Raven Book Store, 6 E. Seventh St. His novels have been a Barnes & Noble Discover Great New Writers selection and a New York Times Editor's Choice.
Meet the chancellor
And Bernadette Gray-Little, Kansas University chancellor, will go under the microscope at 7:30 p.m. at Woodruff Auditorium in the Kansas Union. The interview is part of 2014 Emily Taylor and Marilyn Stokstad Women's Leadership Lecture series, and it's free to attend. Gray-Little will reflect on
her career as a woman who has held key leadership positions across the nation.
Yesterday's most-read
Other March 24 events
Sacred Singing, 5:30-6:30 p.m., Ecumenical Campus Ministries, 1204 Oread Ave.
Board of Commissioners of the Lawrence-Douglas County Housing Authority, 5:30 p.m., Babcock Place, 1700 Massachusetts St.
Lawrence-Douglas County Metropolitan Planning Commission meeting, 6:30-10:30 p.m., City Hall, 6 E. Sixth St.
Lawrence Board of Education meeting, 7 p.m., school district headquarters, 110 McDonald Drive.
Eudora City Council meeting, 7 p.m., Eudora City Hall, 4 E. Seventh St., Eudora.
Jayhawk Audubon Society: Dr. D. Rolfe Mandel, "The Peopling of the New World: A Geoarchaeological Perspective," 7:30 p.m., Fellowship Hall, Trinity Lutheran Church, 1245 New Hampshire St.