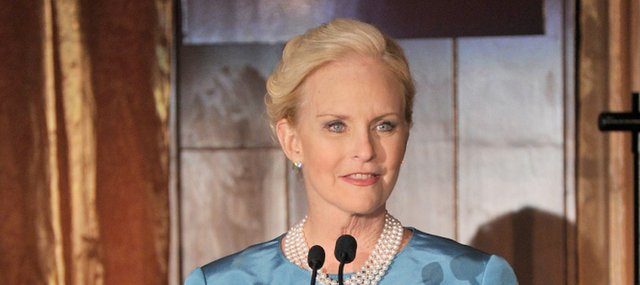 Today in Lawrence is an early-morning digest of essential and not-so-essential info to start your day in Lawrence and Douglas County. Click here for past installments.
Stay indoors
Today will be mostly sunny, but the cold isn't going away just yet. A morning low of 27 will improve gradually to a high in the low 40s this afternoon. Keep your eye on the four indoor events below to stay toasty, and save your energy for the 20-degree jump in temperatures coming tomorrow and beyond.
For the sane
Amid a changing social landscape of connectivity and communication, the legal and societal landscape of what is meant by "free speech" may be shifting as well. Or, in other words, how do you legally deal with the trolls in the comments? Find out at 7 p.m. at The Commons in Spooner Hall, 1340 Jayhawk Blvd., when Kansas University hosts the free panel discussion "Data & Democracy: What is Free Speech in the Age of Social Media?" The panel will be moderated by Deanell Reece Tacha, the Duane and Kelly Roberts Dean of the School of Law at Pepperdine University, and a former faculty member of the KU School of Law.
For the not-so-sane
If a veterinarian posing as a doctor, a race-horse owner and his friends struggling to help keep a sanitarium open is more your style, head to Liberty Hall, 644 Massachusetts St., at 7 p.m. for the next installment of Marx Madness, "A Day at the Races" (1937). A little trivia: Groucho's character was originally named "Quackenbush" but was changed to "Hackenbush" over fear of a lawsuit by a real Dr. Quackenbush.
Class act
At 7:30, in another free panel event, the Dole Institute, 2350 Petefish Drive, will host An Evening with Cindy McCain. The philanthropist and American businesswoman will discuss her experiences as chairwoman of Hensley & Company and her extensive work with a number of major charity organizations, as well as share some stories from the campaign trail. More from our previous post here.
Open your ears
If you prefer music to politics, you might want to check out the KU School of Music's choral presentation "Joy of Singing" at 7:30 at the Lied Center, 1600 Stewart Drive. The concert honors the late James Ralston, a professor of choral music for more than 30 years. Tickets are $8 for adults and $6 for children, seniors and students. Call 785-864-2787 or visit lied.ku.edu.
Or not
Finally, speaking of music, Scott Stapp, founding singer of rock band Creed, will bring his solo show to the Granada at 8 p.m. Doors open at 7. That's all we'll say about that.
Yesterday's most-read
Other March 25 events
Red Dog's Dog Days workout, 6 a.m., Allen Fieldhouse, 1651 Naismith Dr.
Peace Corps Information Session: "Addressing Your Peace Corps Fears," noon-1 p.m., International Room, Kansas Union, 1301 Jayhawk Blvd.
Big Brothers Big Sisters of Douglas County volunteer information, 5:15 p.m., 2518 Ridge Court.
Lonnie Ray's open jam session, 6-10 p.m., Slow Ride Roadhouse, 1350 N. Third St., no cover.
Lawrence City Commission meeting, 6:35 p.m., City Hall, 6 E. Sixth St.
Plymouth Language Program: Free English as a Second Language class, 7-8 p.m., Plymouth Congregational Church, 925 Vermont St.
Plymouth Language Program: Affordable community Spanish class, 7-8 p.m., Plymouth Congregational Church, 925 Vermont St.
Tuesday Concert presents Celtic Session with Frank Shopen, 7:30-8:30 p.m., Lawrence Artrs Center, 940 New Hampshire St.
Math: Fairness and Social Choice, 7:30-9 p.m., Free State Brewing Co., 636 Massachusetts St.
Gamer Night, 8 p.m., Burger Stand at the Casbah, 803 Massachusetts St., free.
Free swing dancing lessons and dance, 8-11 p.m., Kansas Room in the Kansas Union, 1301 Jayhawk Blvd.