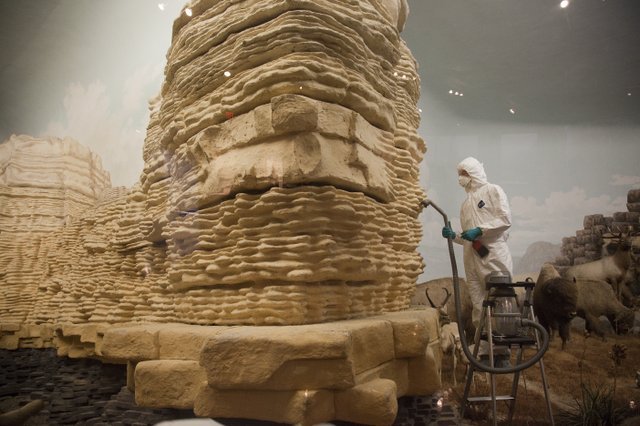 Wednesday, March 26, 2014
Today in Lawrence is an early-morning digest of essential and not-so-essential info to start your day in Lawrence and Douglas County. Click here for past installments.
Freedom songs
Through a chronological history of the South African liberation struggle, "Amandla! A Revolution in Four Part Harmony" cites examples of the way music was used in the fight for freedom. The Lied Center Pavilion, 1600 Stewart Drive, will host a free screening of the critically acclaimed documentary tonight at 6:30. No tickets required.
Connecting the dots
Also on the Kansas University campus this evening: Lawrence Weschler. The esteemed author and former New Yorker contributor will present his lecture "Art and Science as Parallel and Divergent Ways of Knowing," which is currently making the rounds of higher institutions around the nation. The free presentation starts at 7 p.m. at the Spencer Museum of Art, 1301 Mississippi St.
Exhibit history
The beloved Panorama is in the midst of a long overdue makeover, and you can learn more about it from 7:30 to 9 p.m. at Spooner Hall, 1340 Jayhawk Blvd. "Behind the Glass" takes you deep into the Panorama's history with special guests Ronald Harvey and Bill Sharp. Best of all, it's free.
Yesterday's most-read
Other March 26 events
Social Media Club of Lawrence: Severe Weather, 7:30 a.m., Sandbar Sub Shop, 745 New Hampshire St.
Earth Day Park Clean Up, 8 a.m.-noon, Clinton State Park, 798 N 1415 Rd.
1 Million Cups presentation, 9-10 a.m., Cider Gallery, 810 Pennsylvania St.
Big Brothers Big Sisters of Douglas County volunteer information, noon, 2518 Ridge Court.
Dole Study Group: The Brave New World of Political Communications: Lessons from the Obama Campaigns, 4 p.m., Dole Institute, 2350 Petefish Drive.
Syria in Crisis: Jayhawk Fundraiser Dinner for Syrian Refugees, 6:30 p.m., Ecumenical Campus Ministries, 1204 Oread Ave.
Douglas County Commission meeting, 6:35 p.m., Douglas County Courthouse, 1100 Massachusetts St.
KU School of Music Faculty Artists: Véronique Mathieu, violin & Peter Chun, viola, 7:30 p.m., Swarthout Recital Hall, Murphy Hall, 1530 Naismith Dr.
Conroy's Trivia, 7:30 p.m., Conroy's Pub, 3115 W. Sixth St.
Pride Night, 9 p.m., Wilde's Chateau, 2412 Iowa St.