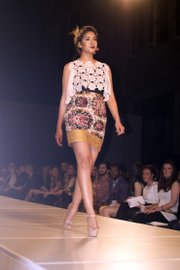 Elizabeth and I were fortunate enough to attend this season's Kansas City Fashion Week earlier this month. We enjoyed a blogger gathering backstage with goodie bags from one of its sponsors, Ulta Beauty, and mingled with fellow fashionistas. There was high energy before the show with the models getting the finishing touches on their hair and makeup, and everyone rushing to their seats.
Designers
The Saturday night show drew in a large crowd and was held in the gorgeous Union Station, where there was plenty of room to enjoy the featured designers and document the night.
The show had seven designers, including the well-known Laura Kathleen, who has been featured on "Project Runway." Her collection had a modern aesthetic that we were drawn to. I love clean pieces that can be staples in your closet, and the collection reminded me of that.
Among the talented designers, there was also a 17-year-old designer named Kate Walz who blew us away with her collection. It incorporated intricate designs and bold color combinations.
What we wore
Elizabeth and I went back and forth on what to wear to this type of event. We didn't want to be overdressed, but we also didn't want to be under dressed. We were shooting for something in the middle.
Fashion week should be your pass to go all out and show your creativity. We don't typically dress outlandishly, so we stuck with a slightly dress-up version of our typical style. I chose an all-lace number in a nude/pinkish tone and nude sandals. The head-to-toe neutral look is a huge trend right now so that's sort of what I was going for.
Elizabeth wanted to be a little more edgy and paired leather pants with strappy black-heeled sandals, a floral top and a leather jacket.
Every time I cover Kansas City Fashion Week, I always say this, but it's so true: It really is growing each season and is quickly becoming one of our favorite fashion-related events that we look forward to. If you're interested in attending Kansas City Fashion Week, check out its Facebook page (facebook.com/kcfashionweek) for updates and its website (kcfashionweek.com) for the upcoming season and ticket information.
— Emily and Elizabeth Kennedy are twin sisters and fashion bloggers who share a blog called Fashion Column Twins. Emily writes this column. They can be reached at fashioncolumnblog@gmail.com.