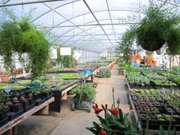 One of my favorite memories I have of my grandma and grandpa's house is the lively rose and hydrangea bushes that lined the eastern entrance of their elegant abode.
The fragrance and appearance of these shrubs is present in my memories of childhood summer visits. This is no doubt one of the reasons I have a true affinity for these living beauties, and hope to one day accomplish a similar quality of landscaping for my own home entryway. In the meantime, I can head over to Howard Pine's Garden Center and Greenhouse and dream about the myriad possibilities of home gardening.
If you take North Third Street out past I-70 you will see Howard Pine's tucked away on the right side of the street. This is where you will find Jerry Pine, son of Howard Pine and current greenhouse operator, carefully tending to needs of the plants and generally managing business.
During my visit, I scurried around the grounds with him as he simultaneously told me about the Pine family's long history and prepared the outdoor pansies to withstand the cold front moving in that night.
It is, indeed, a long history! The Pine family has been farming here in this exact location since the mid-1800s, although it wasn't until 1962 that Howard Pine's Garden Center and Greenhouse was established. Operating on about 2 acres of land (much smaller than what it used to be), you will find a plethora of veggies and flowers here, ready to be welcomed into your own home garden.
Much of what is sold here is local, and it's all plant growth regulator (PGR) free. There is even a large sign hanging in the main greenhouse that explains PGRs are not used so that flowers can grow to their fullest genetic potential. Ah, the benefits of shopping local!
The garden center and greenhouse is extensive and glorious. If you, like me, need a hint as to what to purchase in the next few months, this is the advice I was given: purchase your broccoli, cauliflower and potatoes now; shrubs, trees, perennials in April; and annuals, tomatoes, peppers, etc. in May.
While I don't yet have that fabulous rose bush that my grandma had, I'd guess regular visits to Howard Pine's — and chats with the knowledgeable employees — will put me right on track to one day make grandma proud.
— Jessica Pauly, aka Mrs. Mass., gives her thoughts on shopping, urban living and what's new in Lawrence in CheckOut weekly and on her blog, mrsmass.com.