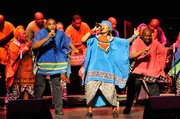 With powerful soloists, rich harmonies and a warmth that sends a message of peace and love to any audience, it seems the language it is delivered in makes no difference. At least not for critically acclaimed Soweto Gospel Choir, a South African ensemble who sing in some of their 10 official languages including English, Xhosa, Zulu and Sotho.
Music is a universal language that speaks to the heart, says Soweto Gospel Choir singer Shimmy Jiyane.
Touring to multiple cities across North America to celebrate their 10-year anniversary album, Divine Decade —the group has been together for 12 years this year—Jiyane says they feel at home in America. Of course, performing in South Africa is different because the lyrics can be better understood, but it makes no difference in reception, Jiyane says.
"A language barrier is only a problem if you're having a one on one conversation," he says. "But with music, there's something that speaks to the soul. There's something about music that speaks to the heart and the mind."
Soweto Gospel Choir performs traditional South African gospels and celebratory songs learned as young children in the church, as well as covers of many Christian cultures, reggae, and American popular music. On the latest album the group sings a breathtaking rendition of Sarah McLachlan's "Arms of an Angel" and "I Will Be There" by Jackson 5, with a few powerhouse soloists taking the lead among harmonious background vocals.
They will bring this joyous music to life onstage at the Lied Center on March 29 at 7:30 p.m., with traditional high-energy choreography, percussion djembe rhythms and traditional clothing in bright colors and with vibrant patterns. The group last performed at the Lied Center in 2008, and has collaborated with Bono, Josh Groban, Cat Stevens, Annie Lennox, Black-Eyed Peas, Diana Ross, Celine Dion, Aretha Franklin, and Stevie Wonder.
"All of our songs have a positive message," Jiyane says. "All of our songs are simple. They are about experiences of life that we've been through. All about freedom, joy, peace and happiness."
The group will also pay their respects to the late South African leader Nelson Mandela with some of his favorite songs including Johnny Clegg's "Asimbonanga." Clegg wrote the song in 1987 calling for the freedom of Mandela from imprisonment.
"The meaning of that song is, we haven't experienced what he's been through, we haven't seen what he's been through, but with what he has been through, he came out stronger," Jiyane says.
Formed in 2002 after choir directors David Mulovhedzi and Beverly Bryer held auditions to recruit members, in hopes that the uplifting sounds of South African gospel music would resonate globally. Within three weeks of the first album release Voices of Heaven that year, they reached the number one spot on Billboard's World Music Chart. Five more albums later, they've won the American Gospel Music Award for "Best Choir" and "Best International Choir," an Emmy, and several Grammy awards.
Looks like the Mulovhedzi and Bryer were onto something.
"We are the reality of an idea," Jiyane says. "We really honor the people who work for us. The people you behind us, those that you don't hear of. Those are the guys who actually worked really hard to get us to where we are right now."
The music has kept the heartache and pain at bay of family members who have passed away during this journey or before they saw all of their successes. Together, all 24 of them, they are unified.
"We see each other as family now," Jiyane says. "We go beyond the point of individuals or friends. If I'm stressed out I have a friend. A shoulder I can lean on, a shoulder that I can cry on."