With vibrant flowers making their debut and warm rays of sun blanketing our yards, it's time to give our homes the refresher it needs with some spring cleaning. Tackling a whole home's worth of tasks can be a bit overwhelming, but cutting it down into a list of must-hit tasks, you'll find taking it one room at a time is less demanding than you think. Head to the store and rack up necessary supplies (or use household items), put on your rubber gloves, and get set to clean!
Entryway/foyer
Dust light fixtures
This is the first area of your home visitors get to see; you want to provide a luminous welcome. If you have a chandelier or light fixture hanging from the ceiling, grab a ladder or step stool and carefully get the dust that's been accumulating since last spring using a lint-free cloth. The room will brighten up after such a quick and simple task.
Don't forget:
• Sweep and mop the floors; wipe clean the walls and trim.
• Reorganize the coat closet and ditch the heavy winter parkas. Put them in storage and officially say goodbye to the bitter winds of winter.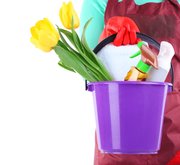 Kitchen
Clean refrigerator and freezer
Dedicate some time to cleaning out food items that have gotten pushed back on the shelves and are no longer fit for meals. Take out the remaining items and wipe out the interior of the refrigerator and freezer using white vinegar. Consider if you're properly optimizing the amount of space you have and keeping things organized to find things you need faster. Are your refrigerator shelves organized in a way that meets your needs (or at all)? Set the standard now. Remember to vacuum the coils of your unplugged fridge.
Don't forget:
• Dust the blinds and open up the windows to let in some clean spring air and sunshine.
• Throw some lemon peels down the garbage disposal and grind them to freshen the sink. Wipe down the rest while you're at it.
Bathroom
Clean the shower curtain
You've been scrubbing down the shower and tub regularly but it seems the shower curtain has been neglected for some time now. Whether it's plastic or cloth, you can throw it in the washing machine (along with a few hand towels to absorb some of the machine force) on a warm and gentle setting, with 1/4 cup of detergent or bleach. Start scrubbing down the rest of the shower while waiting for the wash cycle to finish. Hang up to dry.
Don't forget:
• Go through your medicine cabinets and discard any outdated products, and then organize remaining items.
• Wash any towels and washcloths, especially those that have been sitting in cabinets stowed away for guests. They could use a freshening up.
Living room
Finally get the "cheat" spots
It's good to get the vacuum going on a weekly basis, but this is the time of year to really get down to the nitty gritty and clean underneath furniture. Even though it covers such a large section of the room, you never know what you might find right underneath the perimeter of sofa or how much dust accumulates. If moving heavy furniture proves to be too daunting, buy furniture slides to slip below the bases. Next time will be a breeze.
Don't forget:
• Deep clean your couches by checking the labels for proper instructions. At least remove the couch cushions to use a vacuum hose and get any crumbs, dust or hair that might be within the structure.
• Spend some money on your carpets for a professional deep cleaning, as this particular area of the house typically gets the most guests (or feet, rather).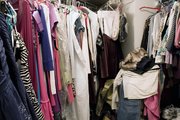 Bedrooms
Closet clothing purge
You're not going to need thick-knit sweaters, heavy jackets or anything fur-lined for the sunny season. It's time to wade through your winter collection and find a place to store it for next year. Bring out your favorite shorts, skirts and maxi dresses of the season, and take some time to decide which of these things you regularly wear. Donate or discard (if worn out) untouched items. Think of it as a nice spring cleanse. Finally, organize the remaining wardrobe and breathe a sigh of relief. Hardest task done.
Don't forget:
• Strip the bed down completely, air out the room by opening the windows and wash all bedding (as you would regularly). Vacuum and flip mattress, and spritz with fabric freshener before reapplying sheets.
• Run a vacuum over the floor, especially after moving the bed. Put away anything that might have found its way under there (because you surely didn't do that).
Office
Clean the computer/laptop
First things first, clean the keyboard and ports with a can of compressed air to blast away any crumbs, hair and dust between the keys. Other computer maintenance includes cleaning out files that you no longer need that are taking up space and slowing down your computer. Consider investing in an external hard drive to save past projects you'll surely need again. Never hurts to have a backup.
Don't forget:
• Clean off your desk. No more putting it off; go through the stacks of paper piled up and throw away anything unnecessary.
• Declutter and dust your bookshelves.
Laundry room
Clean the washing machine
It seems a bit counter-intuitive, but even the machine that does the cleaning needs to be cleaned every once in a while. Minerals in detergent and soap scum are likely to build up over time, not to mention the dirt pulled from your clothing and trapped in the machine, which prevents clothes from getting as clean as they used to get. The easiest way of giving it a good cleaning is by pouring 2 cups of vinegar into the tub like you would detergent, and running it on the hottest setting. Vinegar will cut through the grime, remove any stains and deodorize the machine.
Don't forget:
• Take the lint trap out of the dryer and remove any fuzz as normal. Then give it a good scrub with soap and water. Let air dry completely before replacing.
• Wipe down your iron with a baking soda and water paste to get rid of any starch build-ups.