The relative isolation of his shop in Globe, 8 miles from the nearest town, belies David Anderson's fondness for people.
"I love people," he said. "I love talking to people. I love to teach. Part of being an artist is teaching others. We're not going to be here forever."
Anderson and the Globe Art and Glass shop he and his girlfriend Nedra Lynch own are pretty much all there is to Globe. The shop on U.S. Highway 56, southwest of Lawrence,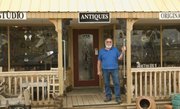 about 11 miles west of Baldwin City, owes its existence to an older byway.
"This was originally built in 1930 as a government-owned trading post, general store and post office on the Santa Fe Trail," he said. "There was a trading post here before that."
Anderson bought the shop in 2005 when living in the basement of a Baldwin City friend's home after a life-altering equestrian accident, which left him laid up for a year and "flat broke." Gone with the accident was Anderson Interiors, the custom home remodeling business he owned at Sixth and Kasold in Lawrence for more than 10 years.
"My friend told me this place was for sale," he said. "He was joking, but I was interested even before I knew it had living quarters in the back."
Anderson may have lost his business with the accident, but he retained his creativity and the handy skills needed to transform his designs into reality. He saw in what most recently had been a rural convenience store/gas station a place to satisfy his varied needs. He cleared out and cleaned up the commercial space in the building's front, while completely remodeling the rear living quarters.
The front door of the shop opens on a space dominated by two large worktables and walls crowded with Anderson's glass artworks, Lynch's paintings and collaborative pieces that combine their talents. On one of the worktables Wednesday was a commission leaded glass piece that is to fit in the front door of a client's home.
"It's a Frank Lloyd Wright's prairie style window," Anderson said. "But it's my own design. I do all my own designs."
He sells his work out of the shop, but it's commissioned work like the door window that keeps Anderson busy.

"I'm about a month behind," he said. "I've got plenty to keep me busy. I don't work all the time, either. I work when I feel like it. I'm 72 years old. I ought to be able to do that."
He started working with stained and leaded glass after his accident, Anderson said.
"I never did painting or anything like that to learn how to draw," he said. "I did a lot of woodworking and cutting and fitting things. I just picked up the hobby and ran with it. I basically learned it by doing it."
Although most of his work can be found decorating homes in the area, he has developed enough of a reputation to have commissioned works gracing homes, businesses and churches in 24 states. Anderson also teaches classes at his Globe studio and repairs stained and leaded glass.
"I'm about the only one around here who knows how to do that," he said.
An average of two or three customers a day pull off the highway to check out the art pieces or the antiques in an adjoining room and a small outbuilding, Anderson said. Almost on cue, Kealy Branson of Pomona and her cousin, Kelsi Vanada of Denver, Colo., stepped through the front door. As she looked over antiques, Branson said she long had been curious about the shop she passed when driving from her hometown of Pomona to Lawrence.
"I thought it was a cute place, but never took the time to stop," she said. "There are a lot of nice antiques and they seem like artistic and talented people."
The antiques keep Lynch — who spends most weekdays with family in Williamsburg — and him busy, Anderson said. It's a business. His glass is a business, too, but Anderson said it was more than that and another way to connect with people.
"Art is one of the best ways in the world to express yourself," he said. "It doesn't matter if you express yourself through painting or cutting glass, there's no right or wrong in art."