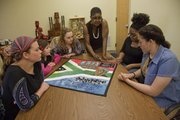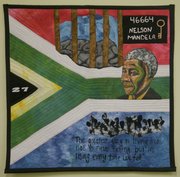 The result of two months of work, in which nearly a dozen students and a longtime Lawrence quilter had a hand, will soon be boxed up and shipped across the Atlantic. Now, those who produced the quilt hope to find a way to follow it to South Africa.
Marla Jackson, a longtime Lawrence quilter, historian and teacher, is seeking to raise enough money so she and her textile students can attend the July International Quilt Convention in Johannesburg, South Africa. The trip would find the group touring the country, including seeing the island on which Nelson Mandela was jailed for 27 years. They would also be able to stand beside their quilt, a colorful representation of the South African flag, Mandela and one of his many notable quotes. That quilt was chosen from a field that included veteran quilters from all over the world and will be among 67 on display in Johannesburg, and will later tour the United States for two years.
"Every child had a little something to do with it," Jackson said.
The international exhibit commemorates the 20th anniversary of Mandela's election as South Africa's president, and the 67 quilts displayed honor the 67 years Mandela served his country. One of the 20 century's most indelible figures, Mandela died at age 95 in December. As Jackson's group of students, among whom live in Lawrence, Lecompton, Ottawa and Vinland, began work on the project, surprises such as the length of Mandela's prison stay were discovered.
Jackson is welcoming donations to be sent to her studio at 2001 Haskell Ave., and said the group is considering other fundraisers like car washes.
"Whatever it takes," she said.
The colorful quilt features watered-down acrylic paint, meticulous stitching of Mandela's likeness on the center-right edge of the flag and a technique called trapunto used to create three-dimensional boulders that can be seen outside Mandela's cell. Elsewhere rests the quote they chose: "The greatest glory in living lies not in never falling, but in rising every time we fall."
Sylvan Mitchell, 15, of Vinland, took a look at her group's quilt one recent afternoon before it was to be shipped and talked about the project's storytelling potential. You can't just walk by a quilt, she said. No, it invites one to stop and stare.
"We have writing on our quilt, but we have really strong visualization as well," she said. "There's just something about having to really think and not having the words right in front of you. … You have to look at it."
Their quilt now complete, Jackson said the next step is asking the community for help sending the group to South Africa, which she hopes is only the start of their travels. But to do so, they need passports, shots and transportation.
"These children deserve this opportunity and privilege to represent America," Jackson said. "They are ambassadors, and I can take them anywhere in the world and be proud. Our next step is the White House. President don't know that yet … but we comin'."