With temperatures steadily rising, it's time to think about getting your summer attire in order. Every man's closet should include a few essentials like T-shirts, shorts, sandals and sunglasses to get him through mercury-rising months.
There are a few additional items, though, that you might not have, but should probably add to stay looking dapper no matter what summer throws at you.
Linen shirt
That starched cotton button-down you've been wearing all winter is sure to leave you sweaty, uncomfortable and downright miserable when temps rise above 70 degrees.
Summer requires a light and breathable fabric, and linen, with its woven flax fibers, fits the bill perfectly. Nowadays, you can find linen button-downs in a variety of cuts and colors. In Lawrence, Weaver's Department Store, 901 Massachusetts St., sells several ($125) as does Gap ($54.95).
White is the classic choice, but nautical stripped and solid navy provide a bit more style. Stick with a slim fit and button-down collar to ensure it'll work for formal and casual occasions.
Pants
Dark selvedge denim is great in the dead of winter, but come summer it's time to trade it in for a lighter look.
Gray or khaki chinos (Gap, $49.50) look great all summer long not to mention that they will literally keep you cooler than skinny jeans. If you can't part from denim, though, expand your options by picking up a pair of white denim (Gap, $69.95).
Long the forbidden jean, white denim (note that I didn't say white-washed) is making a bold and surprisingly fashionable comeback. White denim looks great with boots, plimsolls and flip-flops, though it typically works better with darker, neutral shirts like gray and navy.
Summer scarf
On brisk mornings, cooler days or breezy nights you might find yourself grasping for a summer jacket or your go-to sweatshirt. Fashion trends are changing though and it has become increasingly more common and acceptable for men to wear scarves during the summer.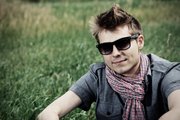 I'm not talking about your winter wool scarf. Summer scarves need to be light and are usually made of silk or lightweight cotton. Striped and plaid scarves or an old-fashioned bandana rolled up have the added benefit of adding some color and texture to any look. And if Ernest Hemingway could pull it off, every man should give it a try.
Rain gear
When the forecast calls for rain you should be prepared, and your first line of defense is a solid umbrella. Think of this as an investment and buy one that won't crack, crumble or flip under pressure.
Davek (davekny.com, $49-$149) offers a line of classic, solid umbrellas ranging from pocket-sized to caned. Also in your arsenal should be an impenetrable raincoat. The Marmot PreCip Jacket (available at Sunflower Outdoor and Bike, 804 Massachusetts St., $99) does the job without flaw. Slim-fitting and long lasting, it's the only raincoat you'll need whether you're on your way to the office or hiking around Clinton Lake.
Tote
Where are you supposed to put that scarf or umbrella when it doesn't rain or a cool morning turns into a blistering afternoon? Think about purchasing a tote and leave that bulky leather messenger bag at home. You can find the Herschel's line of totes ($20) and backpacks ($65-$90) at Weaver's Department Store.
— Nicholas Cunigan is a Ph.D. candidate in early American history at Kansas University. He blends classic fashion with modern details on a low-cost budget.