The first time I took the Kid to Pendleton's Country Market, 1446 East 1850 Road, he was about a year and a half old.
It was late September, and we'd come to pick up a few pie pumpkins from the garden store. The pick-your-own pumpkin patch may have technically been open, but it was deserted. We were the only people there.
As I wrestled the pumpkins and my toddler toward the car, we ran into John Pendleton in the parking lot.
Did you want a tractor ride?" he asked enthusiastically.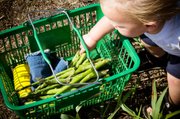 The Kid's eyes lit up, but I quickly replied, "Oh, no — you certainly don't have to do that just for us."
"Nonsense!" his jolly voice boomed. "Every little boy needs to have a tractor ride!"
And that was that. We hopped on the back of a trailer and enjoyed a personal tour of the pumpkin patch.
It made the Kid's day, and mine, too, as I'm sure there was plenty of work he could have been doing instead. But as I've told that story over the past few years, and had friends chime in with similar ones, I've come to understand that it's just the way the Pendletons do business — in that friendly, do-unto-others way that makes you want to head out to their farm as often as you can find an excuse.
My favorite excuse this time of year is pick-your-own asparagus.
If you've never picked asparagus from the ground before, that is a family excursion you just have to make. Early in the spring, the stalks emerge from the ground, fully formed, just as you see them at the grocery store. Standing out in the Pendletons' field, it always feels like asparagus can't be original to this planet. Surely it must come from an alien galaxy far, far away or, at the very least, a fairy tale involving some magic beans.
Despite its otherworldly appearance, though, asparagus is easy to pick, even for little hands. All you have to do is look for the thick spears and snap them off close to the ground. Fifteen minutes of picking will easily get you dinner; a half hour will get you several dinners, especially if your small ones are enthusiastic.
There is one thing that I must warn you about, though: if you've been eating grocery store, spindly asparagus, it's going to be hard for you to ever go back to that. Pendleton's freshly picked spears are gonna rock your world.
The average first picking day is April 15, but this year asparagus is running a little late. Picking only just began. You can pick anytime during Pendleton's regular hours, which are Monday through Saturday from 8 a.m. to 6 p.m. and Sunday from noon to 5 p.m.
Most weekends, you'll even get a tractor ride out of the deal. As I can vouch, the ride will be friendly and fun, as is most everything at Pendleton's.
— Meryl Carver-Allmond lives in Lawrence and writes about chickens, babies, knitting, gardening, food, photography, and whatever else tickles her fancy on any given day at mybitofearth.net.
More like this story on Lawrence.com