When most new organizations first get together, they vote on a committee, draft some policies and have meeting after meeting to decide what to do next.
WOLF didn't do that. It started by making an original short-film anthology.
"Threads" is the name of the debut short-film project from the newly formed Women of Lawrence Film (WOLF), and it can be viewed as four separate standalone vignettes — each shot in a different location on downtown Massachusetts Street — or in its interrelated 20-minute entirety.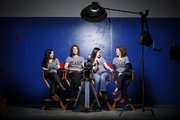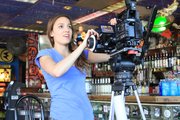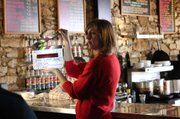 First came the idea for a series of short films united by location rather than genre, and the concept for the organization took shape soon thereafter. WOLF is a unique group of four women filmmakers from Lawrence — Marlo Angell, Laura Kirk, Misti Boland and Christie Scanlin Dobson — founded with the goal of collaborating with and mentoring young female apprentices. What better way to do that than to set out immediately on a challenging project?
"One of the reasons we chose the name WOLF is that we wanted to be identified as a pack," says co-founder Angell, who curates the Free State Film Festival and teaches screenwriting and experimental film classes at the Lawrence Arts Center. "Rather than individual artists doing their own thing, we wanted to represent a collective of filmmakers working and creating art together."
Kerrie Leinmiller-Renick was one of Angell's students, and now she is in the Media Studies program at Kansas State University. Angell chose her as a mentee after seeing her potential and enthusiasm for filmmaking, and also partially because there is no film program at KSU.
"During a process of four days, I was on a professional set filming multiple stories with all the cool gizmos and gadgets," Leinmiller-Renick says, "and with everyone having a specific role in the large, sometimes chaotic dance of the film process."
Team WOLF started out by writing separate screenplays, debuting them at a scene reading together, and then working together to combine characters across stories. A second pass helped interweave stories and character motivations, and it was time to cast and shoot. The difference for students, who probably have some experience working on student films, is that they get to experience what it's like to be on a real set.
With local production company Through A Glass Productions signed on as producers, equipment and volunteer crews were procured for a hands-on crash course in filmmaking. Mentees didn't just watch — they operated equipment, acted and made decisions. The group was on a tight schedule, filming all four threads in four consecutive days this past January, and working on each other's sets.
The mentoring process is key to WOLF's success. Filmmaker and co-founder Laura Kirk, who starred in the indie hit "Lisa Picard is Famous" and lectures in the Kansas University film department, had a mentor that was extremely influential in her career, and she is excited to be able to bring that same opportunity to a new generation of young women.
"Until I met Dolly Hall, who produced 'Tadpole' and '54,' I couldn't really visualize doing what I do," Kirk says. "But as soon as I met her I realized 'That's who I want to be like' and then I kept calling her on every film I've made. She always had an answer for me, and she has been that accessible."
Even with all the attention brought to the issue of the under-representation of women in films, some of the statistics are pretty startling. According to the Geena Davis Institute on Gender in Media, which studies gender prevalence in family films, males outnumber females three to one in family films. Behind the camera, it's even worse, with only 7 percent of directors being female.
Unfortunately, not everyone has the power of someone like Angelina Jolie, who changed the male-written action role of Edwin Salt (which was to originally star Tom Cruise) to Evelyn Salt with her casting in "Salt." Angell challenges her screenwriting students to change males that could be either sex to females while they are writing. Because there is a natural tendency toward male-dominated roles in movies, those who want to change that have to make a concerted effort to work against it.
The individual pieces of "Threads" will premiere at during the June 27 Final Friday in their respective filming locations on Mass. Street in Lawrence. WOLF will also host a screening of a female-directed feature on June 29 at the Free State Film Festival, and "Threads" will appear in its entirety as that movie's opening program.