The 117-year-old St. James African Methodist Episcopal Church in North Lawrence has been undergoing quite a few changes since the end of January.
The plush red carpet and pews have been ripped from the ground and replaced with hardwood floors. Shelves of odds and ends from various model kits, statue collectibles and kitsch items are scattered throughout the restored building, along with work tables and hand-crafted wooden walls to hang artwork.
Photo Gallery
Artwork of Kris Kuksi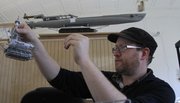 Artist Kris Kuksi takes thousands of small pieces from model kits and other sources and combines and reshapes them into giant works of art that reflect his unique perception of the world around him.
At the center of the chaos is 41-year-old artist Kris Kuksi, instinctively grabbing at small objects, using a small instrument to cut, tweak or otherwise distort the item and holding it up to his latest futuristic creation.
He stares at the fantastic arrangement of individual miniature parts, seeing where he can overdevelop, just to take away from it later in an organic creative process. In this work in progress, Kuksi has fused model kit pieces of a tank, a World War II Russian sled, Gothic water fountain and street lamps. On his finished products, he applies a fine-grain sand-based paste to weather the sculpture and further paint a scene of ruins.
Kuksi is skilled in the art of assembling mixed-media models that bear no resemblance to their intended form. Classified as a fantastic realist, "post-industrial Rococo master" and even steampunk extraordinaire, it all comes down to Kuksi's fascination with darkness as it relates to the human psyche.
"I want my work to be thought-provoking," Kuksi says. "Beautiful in a sense, but a little strange, mysterious. A little focused on the negative side of humanity, but I think for the importance of understanding ourselves we have to embrace that so that we're not consumed by it."
His latest solo show of 12 pieces in New York resulted in many high-profile sales to celebrities, including his biggest client, Nike CEO Mark Parker. In that show, his pieces ranged from $18,000 to $50,000, but others have sold for more than $100,000.
His art is featured in both public and private collections across the United States, Europe and Australia, and owners of his work include Emmy winner Kay Alden, musician Fred Durst, comedian and actor Robin Williams, and film directors Chris Weitz and Guillermo del Toro. Not to mention the many celebrities ("there's a famous singer, but I can't mention who it is") he has to keep anonymous or avid art collectors who choose to remain anonymous, until word gets around.
"In 2012, I sold these two huge pieces to an anonymous buyer, but we found it ended up being Sean Parker, the guy who developed Napster," Kuksi says.
'A revelation'
Renting the church space from Kansas University sculpture professor John Hachmeister, Kuksi and his family relocated from Hays to Lawrence within the past year for his wife's job, and found the church to be a perfect space for an artist to work in. He has been hard at work restoring windows, painting, building work stations and fine-tuning the space to complete works for an upcoming Mark Moore Gallery show in Los Angeles that will run from Nov. 8 until Dec. 20.
He's had an affinity for model kits since he was a kid, assembling mostly spaceships and jets, at that time by instruction. Kuksi then attend Fort Hays State University for a degree in painting and a minor in sculpture. He walked out with a "painter's ego" but had a knack for taking leftover bits and pieces of "junk lying around" and impressing people by arranging the pieces into surreal, intricate works of art.
"It was kind of a moment for me to realize that I'm more of a builder than anything," he says. "That was kind of a revelation."
He made his first model sculpture in 1995, and from there it snowballed into the direction of his career. Simply by producing the satirical and grotesque model sculptures he loved making, and knowing the right people, Kuksi started to make some noise in the gallery scene.
His work has received several awards and has been featured in more than 100 exhibitions in galleries worldwide, including the Smithsonian's National Portrait Gallery, Art Basel and the Cologne Art Fair in Germany.
"Pretty soon I'm standing with Lance Armstrong in Miami, showing him my piece and I thought, 'Well, maybe I'll take this seriously,'" Kuksi says.
Working from largest to the smallest detail, Kuksi uses embossed paper, wallpaper, home-decorating items, scrapbooking goods, wood molding, jewelry, taxidermy mannequins and almost anything that isn't metal.
He can spend up to $50,000 per year on model kits, working to bring life and motion to dead, inanimate objects.
"The largest piece I've done [11-feet-long] took about four months if you placed all the time together," Kuksi says. "But If I do need materials to complete a piece I have ordering and shipping time that has to be dealt with. Nothing overnight dash-off fresh off the press here."
Some of his works, he'll admit, verge on post-apocalyptic themes, but Kuksi would rather drop the label and focus on imagining a world in the process of getting back on its feet in the midst of destruction and decay.
"Everything went in a downward spiral and humanity collapses, but few survive and rebuild, I kind of like that idea more," he says. "With the ruins and remains of our culture, how would humans rebuild things?"
In a nutshell, he is inspired by bright side of darkness.
"We all like happy endings," he says.