Most people have a favorite type of pizza. Whether it's thin crust, Chicago style, or other, there's a lot of variety in pizza styles, and many Americans know what they prefer when it comes to the almighty pie.
Recently, Lawrence gained another kind of pizza to add to the mix courtesy of a new downtown business: Limestone Pizza + Kitchen + Bar.
Limestone, 814 Massachusetts St., specializes in the Neapolitan-style pizza, which generally bakes in a high-temperature oven for a short period of time. I hadn't had this type of pizza before, and with family in town recently, I had the perfect excuse to visit for lunch.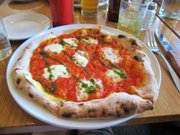 Limestone opens at 11 a.m., so we snuck in around 11:30 before the lunch rush. There was no wait for our party of four, and we got right to business!
The menu is packed full of goodies, much more than just pizza: "bar bites" (just $2 a pop), snacks/sides, sandwiches, salads, "plates" (steak! Linguini!) and sweets. They really cover everything, and it's all quite affordable (the steak plate is $15, but most everything else falls near the $8-$10 range).
I had to give the Margherita pizza a try, and also ordered a mint julep (it was Derby Day). Mr. Mass. went with the pastrami sandwich and a beer.
Waiting for our order to arrive, I soaked up the raw, minimalist feel of the interior. There isn't a lot of decor, which makes space for the unique nature of the original building to really shine. The exposed northern brick wall, the massive wood-fired oven in the rear and the glorious skylight all make for an awesome, wholesome vibe.
It's no surprise that this restaurant is a casual spot, with people eating, relaxing and generally enjoying company. The cheerful energy was palpable, and it made our lunch visit that much more special.
Our meals arrived and we dug in without hesitation. It's always a good sign when the table gets quiet because everyone is voraciously eating; we spent a few minutes in blissful silence. My pizza was quite tasty. The sauce was abundant, and the crust, doughy and ever-so-slightly charred, the way Neapolitan is supposed to be. While I could have eaten all of it, I opted to take home half to eat later (for the record, it made for great leftovers).
It's true that there are many great pizza styles out there, and Limestone's Neapolitan is another delicious option to appreciate. We left the restaurant full and happy, and I look forward to returning to try out the bar bites, the plates and well... everything else on the menu!
— Jessica Pauly, aka Mrs. Mass., gives her thoughts on shopping, urban living and what's new in Lawrence in CheckOut weekly and on her blog, mrsmass.com.
More like this story on Lawrence.com