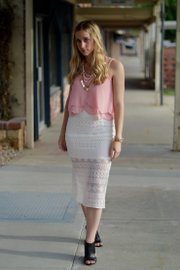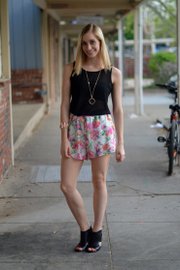 Elizabeth and I wanted to break down two of this season's popular trends that we have been embracing with open arms: the cropped top and the woven short.
Neither of these have actually been heavily implemented into our wardrobes in the past, but we've been seeing so many different ways to wear them lately, and they surprisingly look good on all ages.
Cropped tops
We, like a lot of people, used to run away from the term "cropped top" because that usually means you'll be bearing your midriff. Little did we know, there is a classy way to sport the cropped top. The key to wearing a cropped top is to find a high-waisted bottom to pair with it.
The fit is also extremely important. If the bottom is a flowy silhouette, find a cropped top that's fitted, and vice versa. This will balance out your outfit and make it look more put together.
Elizabeth went with a fitted midi skirt and a flowy cropped top with a cute scalloped hem detail. As you can see she has no stomach showing, and her top actually overlaps her skirt. If it doesn't overlap, then make sure your top is long enough where the top and bottom meet.
You can show a little skin if you want — just make sure that the high-waisted bottom always covers up your belly button, and you'll be safe!
Woven shorts
The woven short, also known as the soft short trend, is huge this season. The best part about these shorts is that they are super comfortable and so easy to dress up or down.
The shorts are typically in a silky satin fabric with a lightweight feel, perfect for summer temps!
The waistband typically sits at your natural waistline for a high-waisted fit. I found a cute pair with a floral print and styled them with a solid silky tank for a dressed-up look.
I added a pair of wedges and some minimal jewelry. This look would be perfect for a night out. But you can dress them down and style with a more casual tank made of a cotton construction and strappy flat sandals. We like to style ours tucked in to show the high waistline of the shorts.
The next time you think a trend is off limits, we urge you to try it out because you might be pleasantly surprised!
— Emily and Elizabeth Kennedy are twin sisters and fashion bloggers who share a blog called Fashion Column Twins. Emily writes this column. They can be reached at fashioncolumnblog@gmail.com.
More like this story on Lawrence.com