After more than a half-century of service to the Kansas University School of Music, Swarthout Recital Hall will host a special decommissioning concert at 5:30 p.m. today.
The event will mark the final performance at Swarthout before renovations begin on the venue later this month.
Faculty artists Julia Broxholm, Peter Chun, Edward Laut, Véroniqué Mathieu, Richard Reber, Steven Spooner, John Stevens and School of Music Dean Robert Walzel are all slated to perform.
For Walzel, it's a chance to celebrate Swarthout as well as the countless students, faculty and guest musicians who have graced its stage in the last 57 years.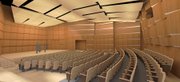 "When we started doing research on it, we figured out that there's probably been more a million people that have attended concerts in Swarthout Recital Hall over its life," Walzel said. "You think about a space that's taken that many people through there to experience music, to support students and faculty. It's really a historic place."
Swarthout, located inside KU's Murphy Hall, functions as the School of Music's primary recital venue as well as a teaching space. Since its opening in 1957, the hall has hosted "some of the great names of American music," including Aaron Copeland, Leonard Bernstein and Percy Grainger. With more than 300 performances staged there every year, Swarthout is the most-used concert venue in the state.
And, after more than five decades of continuous use, it's ready for a face-lift, Walzel said.
"The seats have never been replaced, and the lighting is pretty archaic," Walzel said. "When the new hall opens, it's going to be state-of-the-art and fully capable of supporting music instruction and music performance in the 21st century."
Renovations are scheduled to begin the Monday after commencement and wrap up in March 2015. The project, budgeted at $2.5 million and partially funded by a $1 million gift from the Muriel McBrien Kauffman Foundation, will include new seating, audio-video equipment, an accessible entryway and acoustical treatments.
The venue was practically brand-new when piano professor Richard Reber joined the School of Music faculty in 1964. During his time at KU, Reber taught private piano, piano literature and doctoral seminars in performance, research and pedagogy. He also served as director of the school's Piano Division for a total of 19 years.
Now, 50 years later, Reber is retiring from KU just as Swarthout closes its doors for renovations. His career and retirement will be also be honored at Thursday night's concert.
"If you think about 50 years being in one place and teaching, it's really quite a remarkable stretch of time and service that he contributed to KU and all his students," Walzel said. "It's a really special opportunity for us to celebrate him."
The concert is free and open to the public. For more information, call 864-3436 or visit music.ku.edu.