A few years ago, I got my mom totally hooked on tiramisu. I wanted to make a batch for Mother's Day, but exotic items like mascarpone cheese and ladyfingers (Seriously?!) are not to be found within 30 miles. To that end, I decided to create a simplified version, made with everyday stuff that's easy to get ahold of. Behold: tirami-pseudo!
Tirami-pseudo
For the cake:
2 eggs
1 cup sugar
1 cup sifted cake flour
1/8 teaspoon salt
1 teaspoon baking powder
1/2 cup milk
1 tablespoon butter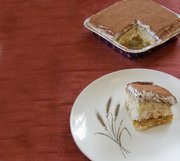 For the filling:
2 cups ricotta cheese (make sure it's the whole milk kind).
1 teaspoon of vanilla extract
1 cup of powdered sugar
1/2 cup cold, strong coffee.
For the topping:
1 cup heavy whipping cream
1 tablespoon of sugar
Cocoa powder
Fire up your oven to 350 F and grease the bejeebers out of an 8x8 cake pan. Sift together the flour, salt and baking powder. Zap the milk in the microwave for a minute, then plop in the butter and let it melt.
Beat the two eggs in your stand mixer until they start to get nice and thick. Add the sugar (the regular, not the powdered) gradually and beat it with the eggs until it's all really thick and pale. Working quickly, fold in the flour mixture, and then fold in the milk mixture. The batter at this point is kind of runny, but have no fear. Slide the pan into the oven and let it bake for 30 minutes.
Aw, isn't it pretty? Smells good, too. Let it cool for 5 or 10 minutes, then shimmy that little bugger out of the pan and toss it in the freezer. While it's in there, beat the whipping cream together with the tablespoon of sugar until it hits the "stiff peak" stage. Scrape it into a small bowl and stash it in the fridge.
Using the same mixing bowl (we're trying to save on dish-washing), beat together the ricotta, vanilla and powdered sugar. It won't get smooth, but it should be well-blended. The cheese mixture can keep the whipped cream company in the fridge while the cake finishes cooling.
Once everything has hit the magical and arbitrary mark of "cool," it's assembly time. Using a cake leveler or a long knife, split the cake into top and bottom halves. Set the top layer aside and put the bottom layer back into the pan. Pour, dribble or otherwise splash the cold coffee over the cake, and then spread the ricotta mixture evenly over it. Set the remaining cake layer on top and slather it with whipped cream. Give the finished cake a heavy dusting with cocoa powder, and it's ready to eat. On the off chance you have leftovers, keep 'em in the fridge.
Enjoy!