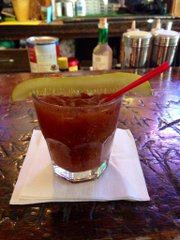 Mary's siblings
There's more than one way to make your beverage bloody.
• Bloody Bull: Beef broth or bouillon is added to a basic bloody mary
• Bloody Cab: Cabernet Sauvignon replacing or in addition to vodka
• Bloody Geisha: Sake instead of vodka
• Bloody Maureen: Guinness instead of vodka
• Bloody Molly: Irish whiskey instead of vodka
• Bloody Moo Moo: Milk instead of vodka
• Bloody Pirate: Dark rum instead of vodka
• Virgin Mary: No alcohol and increased amount of tomato juice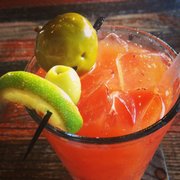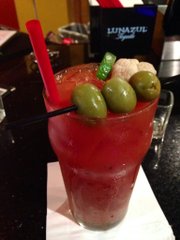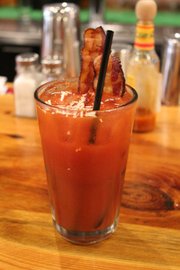 Let's just cut to the chase. The bloody mary is a crowd-pleaser because it's not only tasty but also perfectly acceptable to drink with breakfast. No 5 o'clock wait with this beverage.
Another reason the bloody mary deserves some love is its ability to trick us into snacking while drinking. The garnish possibilities are endless: lemon, olives, pickles, celery, beef jerky and peppers. At one point Dempsey's offered a Bloomin' Bloody, a mini-cheeseburger, chicken wing, and assortment of other garnish goodies sitting atop the cocktail.
Bottom line: It's got a lot of bloody great qualities, and it can be customized a thousand different ways. To help sort through the bloody mary madness, here's a rundown of how a handful of Lawrence restaurants and bars put their own twist on this classic cocktail.
Basic Bloody
Classic bloody at Dempsey's
In search of the aforementioned Bloomin' Bloody, I learned it is no longer an option at Dempsey's Burger Pub, 623 Vermont St. The bartender did offer up an "extra spicy" basic bloody, however, and combined the standard vodka, tomato juice, Tabasco sauce and other flavorings. Topped with a couple of olives and a lemon slice, this tall glass was a solid starting point of a long journey.
Cost: $6 for a pint glass
Classic bloody mary at Louise's West
There's no escaping the highest regards for Louise's West, 1307 W. Seventh St., when it comes to the basic bloody mary; it's unofficially been cast as best bloody in Lawrence because of the large number of people who asked if I'd hit up this location yet. Not in the downtown area, it still seems reasonable to go out of the way for this "secret" recipe of self-detected spicy vodka and tomato juice, laced with A1 Steak Sauce, celery salt and Worcestershire sauce. Bonus: it comes with a crisp dill pickle spear.
Sunday special: $3 single; $5 double
Maria's bloody
Bloody Maria at Taco Zone (Replay)
The Taco Zone is an unexpected place to order a cocktail, head over to the latest addition of Replay Lounge, 946 Massachusetts St., on a Sunday for a special bloody maria concoction. The bloody maria is served with tequila instead of vodka (can have vodka if you prefer classic), Brad Shank's special hot sauce and pickles.
Cost: $5, for vodka; $6 for tequila
Bloody Maria at The Burger Stand
Sitting in two jars on The Burger Stand at the Casbah, 803 Massachusetts St., countertop are pepper-infused liquors for your bloody mary and maria pleasures. Because the peppers have been stewing in vodka and tequila for an extended period of time, the spicy goodness of these drinks shine through. This is not for the weak. Ask for beef jerky to cut some of the spice.
Cost: $6 for bloody mary or maria; $4 special on Sunday
Infused Bloody
Bloody Mary at The Bourgeois Pig
Another local favorite, this cocktail is combined with a hot pepper-infused vodka and the standard bloody fare at The Bourgeois Pig, 6 E. Ninth St. The house-infused vodka gives it a kick, so once again, beware for spice-fearing folks. It's topped with a lime, olive, pepper garnish that make it one attractive-looking beverage.
Cost: $7 bloody mary; $5 special on Sunday
Bloody Maria at La Parrilla
I realize this beverage also belongs under the "maria" category, but the infusions that La Parrilla, 724 Massachusetts St., has going on makes it by far one of the most interesting bloody stops on the tour. Offering jalapeno-infused, cinnamon-infused and pineapple-ginger-infused tequila options, you get to choose whether you want to go spicy, spicy-sweet or fruity directions. Having never experienced a fruity bloody, I selected a pineapple-ginger bloody maria (and sampled each of the tequilas). Tequila lovers rejoice! Each flavor unlike the other and suitable for any tequila mood.
Cost: $7 for bloody mary (not infused) or maria
Specialty Bloody
The Roost list
The Roost, 920 Massachusetts St., is the master of bloody mary specialty cocktails so if you're looking for some exciting alternative recipes, this is the place to be. The top three on the list are as follows (drinks cost $7 each):
Ol' Smokey
Smoked tomato juice, vodka, lemon, Worcestershire sauce, Pecan Wood Smoked Bacon, grated Parmesan
NoLaw
Spicy V8, vodka, lemon, horseradish, minced garlic, Frank's Hot Sauce, Cajun seasonings, Worcestershire sauce, dehydrated peppers
Neighbor Brad's Clamato
Clamato, dill weed, lemon pepper, celery salt, Tabasco sauce, Worcestershire sauce, lime, garlic dill cheese curd
Bloody Bar
Six Mile Tavern, 4931 W. Sixth St.
They give you a glass with ice and Smirnoff Vodka and let you go to town in a bar filled with tomato juices, various olives (cheese-stuffed options), peppers, bacon, spicy and savory seasonings, barbecue sauce, Chalua, Tabasco and really anything else you could think to put in a bloody mary. Bloody inexperienced? The bartenders are right behind the bar to assist you or make one up for you.
Cost: $6 regular bloody mary; $5 bloody bar Sunday special (per each drink)