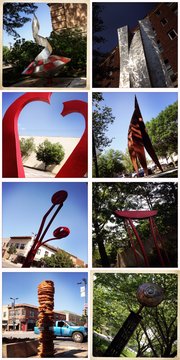 If you go:
The opening reception and tour for the 25th Annual Downtown Outdoor Sculpture Exhibition will begin at 5:30 p.m. Friday at the Lawrence Arts Center, 940 New Hampshire St. Here are the eight sculptures on display, along with their artist and location, in this year's exhibition:
"The Player" by M.J. Lamberson, at the southeast corner of Ninth and Massachusetts streets.
"New Red Dress" by Robert Lamberson, at the southeast corner of Sixth and Massachusetts streets.
"Cohesive Narration" by Kristin Garnant, at the southwest corner of Seventh and Massachusetts streets.
"Cyclops" by Pat Slimmer, at the southeast corner of North Park and Massachusetts streets.
"Swans on the Marsh" by V. Skip Willits, at the New Hampshire Farmer's Market lot.
"Amasa Back" by Kelsey Stertz, at the northeast corner of Eighth and Massachusetts streets.
"Pollywiggle" by Bounnak Thammavong, at the northwest corner of Ninth and Vermont streets.
"Astrid Modulaire" by Jaak Kindberg, at Eleventh and New Hampshire streets.
Standing tall in front of Merchants on Eighth and Massachusetts streets and made entirely from stacked wooden disks is a visual puzzle for the community to solve created by local artist Kelsey Stertz. As if popping up from the ground overnight, Stertz's piece and seven others now adorn the downtown Lawrence area.
These creations in various shapes, colors, textures and materials not only add ambiance to the community, says assistant city manager Diane Stoddard, but also prompt creative discussion in honor of the 26th Annual Outdoor Downtown Sculpture Exhibition.
"It's been a very popular tradition for people who enjoy art and love to see the public art change out every year," Stoddard says.
Sponsored by the Lawrence Cultural Arts Commission and founded by 85-year-old local sculptor James Patti, this year's exhibition returned to its original model of soliciting submissions from artists from across the Midwest. Stoddard says the works were installed a bit earlier than usual this year. There will be an opening reception during this month's Final Friday at 5:30 p.m. at the Lawrence Arts Center, 940 New Hampshire St.
A tour will follow the reception, which will open with a brief introduction from juror Lori Norwood, who narrowed the number of entries from around 30 sculptures (25 different artists) to eight.
Stertz's "Amasa Back" is a giant puzzle, created with the intent of leaving the viewers in control of its form. Inspired during a trip by the rocky landscape of Moab, Utah, Stertz coupled her passion for art and rock climbing in this public art piece. She wants the community see the parallels between the two while employing techniques to manipulate the disks to achieve its correct form and original design.
"I want them to use their minds and their bodies to solve this visual riddle," Stertz says. "Which is what you have to do in rock climbing."
She hopes passers by will use her piece as an excuse to slow down from their own "crazy lives," take a break from technological distractions and play with form in front of them.

"I hope it prompts discussion about how art can truly be about the public," Stertz says. "Art can be influenced by the people you are making it for."
A third-year graduate student in sculpture at Kansas University, Stertz will spend her forthcoming thesis year building on this concept of interactive, life-size works in a series of sculptures made from different materials.
Local mechanic and self-taught artist Pat Slimmer created the chained base of his sculpture on display in his yard for a while, before deciding how he'd top the now one-eyed steel monster. Having to uproot his yard, as it was cemented down, the completed work called "Cyclops" is now sitting on the edge of South Park.
Slimmer is proud to be featured this year, having finished the piece one day before the deadline. The most challenging feat of the sculpture was fabricating the stee-hub-cap-looking eye on either side of the top, made from 18-gauge sheet metal.
He's always created art for himself, but finds himself dwindling away his free time without having the extra push of a deadline. The public aspect of this exhibition is scary, he says, because art is subjective and people will either like it or hate it.
"I've had to accept this fact," Slimmer says, noting that he looks forward to submitting to the exhibition in the future.
But the universality of his work leaves viewers in charge of searching for possible meanings.
"'Cyclops' is a lot of different things to a lot of people," Slimmer says without a specific intent for his entry. "It could be anything you want it to be."