Saturday, November 1, 2014
"I never planned on being a poet," swears Elizabeth Schultz, a retired Kansas University professor of English whose three most recent books of poetry were released this year to critical acclaim.
It's one of those perfectly crisp fall days, and Schultz, 78, is sharing a loveseat with Bruce, her 12-year-old gray domestic shorthair and constant writing companion, in a sun-dappled alcove just off the living room of her Lawrence home.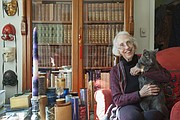 Dozens of books are scattered and stacked atop a nearby coffee table, and quite a few of them are her own work.
Over the span of little more than a decade, Schultz has published a collection of short stories, a memoir, a collection of essays and five books of poetry — a prolific body of work for any author, especially one who only began writing after reaching age 60.
The past year has been especially busy for the sprightly Schultz, who published three new collections of poetry in 2014.
Schultz will read selections from those works — "The Sauntering Eye," "Mrs. Noah Takes the Helm" and "The Quickening" — Thursday evening at the Raven Book Store, 6 E. Seventh St.
"We at the Raven are so grateful for Beth's support and encouragement and her active role in the whole of the arts community in Lawrence," says Raven owner Heidi Raak in an email. "She is a prolific author, a scholar, a voracious reader and an outspoken advocate for books and reading."
A longtime fixture of the Lawrence arts community, Schultz has remained involved with the Lawrence Arts Center and the Spencer Museum of Art (where she still serves on the board of directors) long after her retirement. She helped establish the annual Langston Hughes Creative Writing Award as well as the Elizabeth Schultz Environmental Fund, which supports local efforts in preservation and environmental education.
If you go
What: Elizabeth Schultz reading
Where: The Raven Book Store, 6 E. Seventh St.
When: Thursday at 7 p.m.
Cost: Free
But over the past few years, she's people have begun to recognize her as something new entirely — a writer and a poet.
Schultz, a professor emeritus of English at Kansas University and one of the world's foremost scholars on Herman Melville and "Moby Dick," made the "unexpected" decision to write her first non-academic work shortly before retiring from teaching in 2001. The resulting memoir, "Shoreline: Seasons at the Lake," recollects childhood summers spent at her family's cottage along the shores of Higgins Lake in northern Michigan.
The book is also partly a biography of Schultz's late mother, who vacationed at the same spot as a girl.
"Thinking about her is to remember this place," she says.
Inspired by those memories and the raw beauty of her home state's shorelines, Schultz found herself using adjectives — lush descriptors for colors and sounds — that she says weren't necessarily encouraged in scholarly writing.
"I felt as if I was a faucet that had been frozen and suddenly began to thaw, and the words just gushed out," she remembers telling her friend and fellow author Mary Wharff. "I loved being able to write in a way that allowed me to draw on the deep, deep well of our language."
Poetry soon followed, and before she knew it, Schultz was writing "a poem a day." It's a routine she has practiced, mostly without fail, ever since.
To Schultz, a lifelong reader, writing is therapeutic — especially in the case of her most recent work, "The Quickening."
The book of poetry is a "deeply personal" account of what it means to grow up female, says Schultz, who drew heavily from being raped at age 8 and her subsequent struggles with sexuality.
In one of the book's earliest poems, "Just the Facts," Schultz describes the immediate aftermath of the assault — a medical examination, a police report, a man who "tempted her with ice cream behind the lilac bushes" on her way home from school one day.
"I attempted to put a group of poems together how a life can come out of darkness into light, how we can flourish against the odds," Schultz says. "I think people through asking themselves questions, by being committed to learning, can come into the light."
It's hasn't always been easy to talk about, admits Schultz, but after 70 years, she feels ready to share her story with a more public audience.
Schultz's longtime friend Susan Tate, executive director of the Lawrence Arts Center, will be among the crowd Thursday evening at the Raven.
She says her decade-long friendship with Schultz has taught her that anything is possible.
"The title of 'The Quickening' is something that means 'coming to life,'" Tate says. "That's Beth every day. She brings others with her into life."