By the time this column runs in the newspaper, the sting of the Royals' defeat in the World Series will likely have worn off a bit. But as I sit down to write this column, Alex Gordon is still circling the bases in my mind as I shake my head and think about how close this city came to its first championship in three decades.
Still, it was a good run. Catastrophes and national championship runs (or some collision of the two) have a way of bringing people together, and I've never seen such excitement, enthusiasm and all-around good vibes in a town before, with the possible exception of Larryville circa 2008.
While it won't kill the pain completely, there's nothing like a little bit (or a lot) of food, drink and live music to get back in the groove of enjoying Kansas City's non-sports offerings.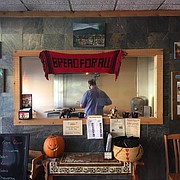 One restaurant that I visited for the first time recently and am already planning to head back to soon is Westport's Bread for All, which sells a variety of Middle Eastern sandwiches including gyros, shawarma, falafel, kifta, as well as items like baklava, lentil soup and homemade hummus.
Bread for All's signature item is its light, fluffy naan bread, which is baked fresh every morning. A package of naan bread to take home is $4, and includes a couple bucks off a sandwich purchase in the restaurant — well worth it.
Bread for All is located in an unassuming strip mall location at 536 Westport Road, not far from the Sun Fresh, and is open Monday through Saturday from 11 a.m. to 9 p.m. It's a flavorful, refreshing and friendly addition to the area's offerings of Middle Eastern cuisine.
Longboards
Longboards Wraps & Bowls, a locally owned deli that pairs a laid-back California ambiance with Midwestern food culture, has just opened a location at 5415 Johnson Drive in Mission in addition to its flagship site at 6269 North Oak Trafficway in North Kansas City. The surf-shack influenced cuisine takes cues from the food styles of Hawaii, Japan, China and Mexico as well as California and Kansas.
Try the Wow! Kung Pao wrap with chicken, peanuts, pepperjack, rice, veggies, Sriracha and spicy Chinese sauce, or the grilled flat wrap with hummus, veggies and Parmesan sauce. Other wraps and sandwiches include ingredients like carne asada, shrimp, hard-boiled eggs and imitation crab, with a wide variety of noodles, sides and sauces to spice things up. You'll spend a couple dollars more here than at one of the bigger sandwich chains, but the difference in quality is well worth it. Visit longboardswrapsandbowls.com to see a full menu or the hours by location.
Westport Ale House
With the craft and microbrewery proliferation showing no signs of slowing down, the popular Westport Ale House is a great place to sample a wide variety of beers in an upscale, sports-bar setting.
The restaurant and bar opened last March, and just added a rooftop deck to coincide with Game 1 of the World Series. The deck will be open on weekends through November, and again next spring. The Westport Ale House is located in the former Streetside Records building at 4128 Broadway Ave.
Concerts
On the concert calendar, fans of Macklemore and Ryan Lewis's hit song "Same Love" can hear the female singer featured on the track when Mary Lambert visits the Record Bar at 9 p.m. Monday.
The 25-year-old songwriter and spoken word artist from Seattle was a barista until she was recently signed to Capitol Records. Tickets are $17 for people aged 18-20 and $20 for those 21 and up.
My personal pick is for the ever-raucous, unrelenting San Francisco outfit Thee Oh Sees, who have released something like 10 albums in the last eight years. Fans of high-energy garage and psychedelic rock won't want to miss this Saturday night show at the Riot Room. Tickets are $15 at theriotroom.com.
One of Kansas City's best-known jazz outfits, The Sons of Brazil, will be in Lawrence on Wednesday night for a 7:30 performance at the Lawrence Arts Center. The quartet will be performing with KU Jazz Ensembles as part of the Arts Center's Nine Forty Jazz series. Tickets are $10 for adults, $7.50 for seniors and $5 for students.
— Lucas Wetzel is a writer and editor from Kansas City, Mo. Know of an upcoming event in Kansas City you'd like to see featured in Kansas City Connection? Email us about it at kcconnection@ljworld.com.