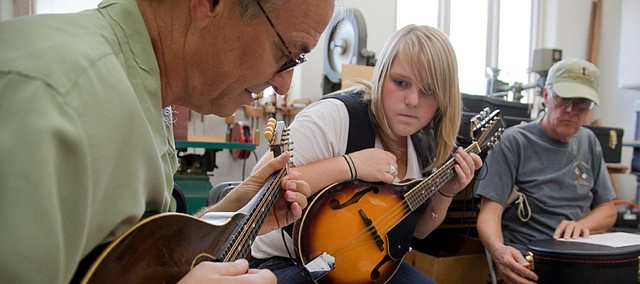 Tuesday, November 4, 2014
Today in Lawrence
is an early-morning digest of essential and not-so-essential info to start your day in Lawrence and Douglas County.
Click here
for past installments.
Clouds and ballots
There won't be much sun on this Election Day. The forecast calls for mostly cloudy skies and a high of 58 degrees. The winds will blow from the northwest at 5 to 10 mph. Overnight will bring a low of about 37 degrees under partly cloudy skies.
Time to vote!
Everything you need to know about voting is at the Douglas County Voting and Elections website. You can also find the latest coverage of all the races on the Lawrence Journal-World Elections 2014 website. Get out and cast your vote!
Cancer support
PSA: Prostate Cancer Support Advocates is a group that meets to help men who have been diagnosed with prostate cancer or are interested in learning more. Spouses are also welcome. The support session starts at 5:30 p.m. at Lawrence Memorial Hospital, 325 Maine St. The group meets the first Tuesday of each month.
Bluegrass sound
Bluegrass band Last Kansas Exit won the International Bluegrass Championship in Nashville. Well here's your chance to hear the same players with a new sound. Brett Hodges, Louis Meyers (founder of the Folk Alliance), Neal Hudson and Scott Tichenor (founder of www.MandolinCafe.com) — don't miss this. The free Tuesday Concert Series features No Mountain String Band, 7:30-8:30 p.m. at the Lawrence Arts Center, 940 New Hampshire St.
Yesterday's most-read
More Nov. 4 events
Red Dog's Dog Days workout, 6 a.m., Recreation Center, South Park, 1141 Massachusetts St.
ECM University-Community Forum: On Venezuela, noon-1 p.m., ECM Building, 1204 Oread Ave.
Big Brothers Big Sisters of Douglas County volunteer information, 5:15 p.m., 2518 Ridge Court.
Tai Chi Yang Style Short form, 5:30 p.m. beginner, 6 p.m. advanced, Ecumenical Campus Ministries, 1204 Oread Ave.
Red Dog's Dog Days workout, 6 p.m., west side of South Park, 12th and Massachusetts streets.
Lonnie Ray's open jam session, 6-10 p.m., Slow Ride Roadhouse, 1350 N. Third St., no cover.
The Beerbellies, 6:30-9:30 p.m., Johnny's Tavern, 401 N. Second St.
Lawrence City Commission meeting, 6:35 p.m., City Hall, 6 E. Sixth St.
Sexuality Education Committee: Dennis Dailey on Jealousy, 7 p.m., Ecumenical Campus Ministries, 1204 Oread Ave.
City and Colour, 7 p.m. doors, 8 p.m. show, Liberty Hall, 644 Massachusetts St.
Free English as a Second Language class, 7-8 p.m., Plymouth Congregational Church, 925 Vermont St.
Affordable community Spanish class, 7-8 p.m., Plymouth Congregational Church, 925 Vermont St.
Gamer Night, 8 p.m., Burger Stand at the Casbah, 803 Massachusetts St., free.
Free swing dancing lessons and dance, 8-11 p.m., Kansas Room in the Kansas Union, 1301 Jayhawk Blvd.