Wednesday, November 5, 2014
Most women I know love to wear jeans, but hate to shop for them.
And looking at the price tag of name brand jeans only adds insult to injury. Some pairs cost more than $100.
I recently went jeans shopping and have some tips to make the experience more affordable.
Shop second-hand
I mention thrift stores a lot in my column. When it comes to jeans, thrift stores are definitely the way to go. Not only is the price right, but you are able to purchase jeans that are already worn in, which makes them infinitely more comfy.
I used to think of thrift stores as where I went to browse and purchase items to top off my wardrobe. Goodwill, 2200 W. 31st St., wasn't my go-to for staples in my wardrobe until a few of years ago when I discovered its jeans section.
All the jeans at Goodwill are $6.99. Between the KU students and general population of Lawrence, this thrift store has a great selection of denim. Like any second-hand store it can be hit or miss, but I've regularly seen brands such as Gap, Banana Republic and Levi's.
I recently purchased a pair of AZI jeans from Goodwill for only $6.99 that retailed for as much as $98.
Other great second-hand stores to shop for denim are Plato's Closet, 3514 Clinton Parkway, and Arizona Trading Company, 736 Massachusetts St.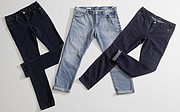 Buy designer at discount stores
I understand the appeal and convenience of heading to Oak Park Mall in Overland Park to purchase designer jeans and Nordstrom, Dillard's or Macy's. If you know what you want, you can go in, grab it and be done. But that convenience comes with a hefty price tag.
If buying designer is a priority to you, I recommend a trip to T.J. Maxx, 3106 Iowa St., or Ross, 3234 Iowa St.
These stores offer designer brands at 50 to 75 percent off the retail price. You do have to do a little digging, but it can be worth it. I recently found a pair of Michael Kors jeans for $35.99. These jeans retail for $110 and, unlike the pair I purchased from the Goodwill, they are brand spanking new.
Mark your calendar for the best deals
When it comes to bargains, timing is everything.
October and November are actually the best months to buy jeans when it comes to savings. With back-to-school shopping done, many retailers slash their prices on jeans. Gap, 643 Massachusetts St., currently has tons of jeans on clearance from to $24.99 to $29.99, from boyfriend cut, to straight leg, to jeggings. And the store recently gave an additional 50 percent off all of its clearance prices, which brought the jeans down to as low as $12.49.
— Arley Hoskin is a writer, mom and avid bargain shopper.