Wednesday, November 5, 2014
I understand that he's a controversial figure and I respect the fact that each family must make the choice for themselves, but, for our house, I just can't get into "The Elf on the Shelf." For one, we don't do snitches. For two, something in the Elf's eyes reminds me of that possessed doll Chucky from the "Child's Play" movies.
But I have to admit, when I see Pinterest boards full of delighted kiddies finding the Elf in different mischievous poses each morning, I can't help but wonder if we're missing out on some fun. I appreciate the creativity, just not the packaging.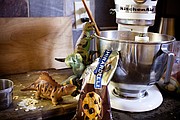 Which is why I was happy to discover an imaginative alternative this year: Dinovember.
Dreamed-up by Kansas City couple Refe and Susan Tuma, Dinovember began purely out of whimsy. "In the age of iPads and Netflix," Refe writes about the project, "we don't want our kids to lose their sense of wonder and imagination."

So, every night for the entire month of November each year, the pair devotes themselves to convincing their children that their toy dinosaurs come to life while the kids are sleeping. In scenes that range from tearing into a cereal box to making graffiti with crayons to even occasionally cleaning up after themselves, the Tumas' dinosaurs have nocturnal reign of the house for one short month.
The idea has spread like the ash from a species ending asteroid. According to the Dinovember website, families in over 45 countries now participate, and I suspect that the Tumas' new book, "What the Dinosaurs Did Last Night," will only increase their prehistoric following.
While November has already begun, of course, it's not to late to get in on Dinovember.

First, you'll need some toy dinosaurs. If your kids already have a box full, you're all set. If not, may I recommend picking up a few at the KU Natural History Museum's gift shop? Not only is a quick stroll through the fossils a great way to kick off your Dinovember but I was also able to pick up a handful of dinos there for about $15.
Next, I found it helpful to go online for a little inspiration. Because this is our first year, I've decided to commit to only breathing life into our dinosaurs about every other night, just to keep things manageable. The Dinovember Facebook page is full of cute ideas, and searching the hashtag "Dinovember" on Twitter, Instagram or Pinterest will get you everything from brontosauruses driving toy trucks to T-rexes flying across the living room on zip lines.
Another few easy ideas? Pull out the kids' favorite board game and set the dinosaurs up to play. Let the dinosaurs loose in the bathroom with a roll of toilet paper or set them up for a hot tub party in the bathtub. Or pop some popcorn and have the dinosaurs watch a favorite movie — "The Land Before Time" or "Ice Age" might be hits with the extinct reptile crowd.
Whatever form Dinovember takes for your family, remember that the point is to use your imagination and hopefully incite your small ones to do the same. As the Tumas proclaim, "Childhood is fleeting — let's make it fun while it lasts."
Happy Dinovember!
— Meryl Carver-Allmond lives in Lawrence and writes about chickens, babies, knitting, gardening, food, photography, and whatever else tickles her fancy on any given day at mybitofearth.net.